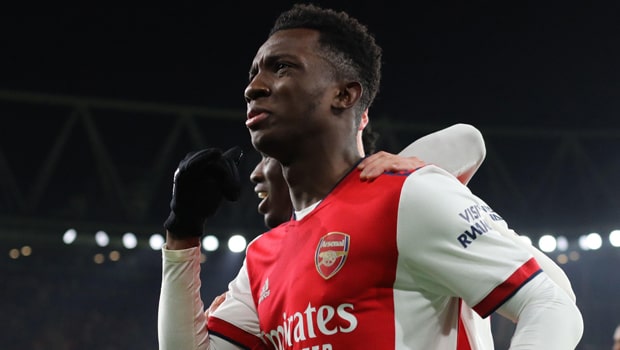 Eddie Nketiah's contract with the Gunners ends next summer, and the player weighs his options.
The 22-year-old forward gave a magnificent display of talent in the Carabao Cup game against Sunderland.
Nketiah scored a hat-trick and sent a clear message that he possesses the talent to be part of the first team.
However, the player has not had many opportunities to play, and this has prompted him to analyze his possible departure from Arsenal.
The Gunners have been unable to reach an agreement with the player, who appears to be leaving the Emirates soon.
Nketiah's decision to leave the Gunners has nothing to do with money but a lack of minutes on the pitch. It seems that the player wants the club to secure him a place in the first team.
With talks with Arsenal stalled, Nketiah looks at his options.
Crystal palace
Crystal Palace already tried to sign Nketiah over the summer but failed to come to terms with the Gunners.
The Palace reportedly failed to come up with the £ 20m the Gunners wanted. However, due to the player's contractual situation, things have changed.
The Palace would try to take advantage of the situation, as the Gunners do not want the player to leave for free at the end of the season, so they will be willing to entertain any offer.
Palace is expected to make a move for the player in January as they don't want to risk another club getting ahead of them.
Newcastle
The Magpies are desperate to improve their firepower and get out of the relegation zone. Despite that the club hierarchy said they would not invest money in the winter market, things have changed.
Eddie Howe is reported to have a substantial budget to strengthen the team, and a talented youngster like Nketiah fits very well into the club's short-term and long-term plans.
In January, Nketiah must decide whether he continues at Arsenal or moves to another club. The 22-year-old has great potential to impact the performance of any club positively.
Leave a comment