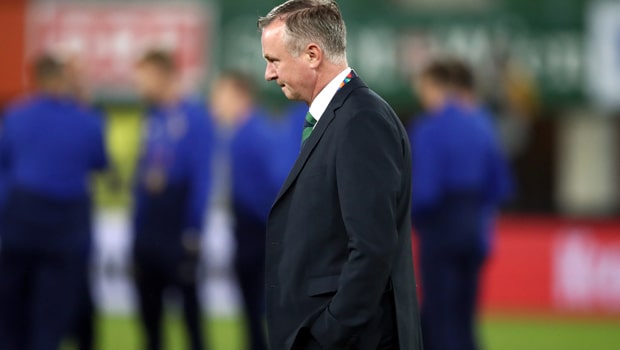 Manager Michael O'Neill has urged his youthful Northern Ireland squad to believe they can compete with top-class opponents after a 1-0 Nations League loss in Austria.
Marko Arnautovic's 71st-minute goal was enough to settle Friday's contest in Austria's favour, though Northern Ireland came close to an equaliser when substitute Will Grigg hit the post with six minutes left.
O'Neill knows where he stands, with a side largely drawn from players playing in the lower tiers of the English leagues.
Austria, meanwhile, had the bulk of their team coming from Premier League and Bundesliga clubs.
Defeat wasn't the first thing on O'Neill's mind post-game, as he insisted his players would be able to take positives from the trip to Vienna. "It is a step up for a lot of our players to come to this kind of arena against these kinds of players," he said.
"They have to realise they are good enough to compete, they are good enough to play at this level.
"That's the challenge, but for some of them, they are at the very infancy of their international careers and sometimes having that self-belief and ability to go and play on the front foot, it takes time and experience and they'll be better for having played here."
Defeat left Northern Ireland in a relegation battle in the Nations League, though O'Neill may already be turning his mind towards the European qualifiers, which begin in earnest in the spring.
Northern Ireland are 6.00 to win away in Bosnia on Monday. The home side are favourites at 1.62 while the draw is 3.60.
Leave a comment