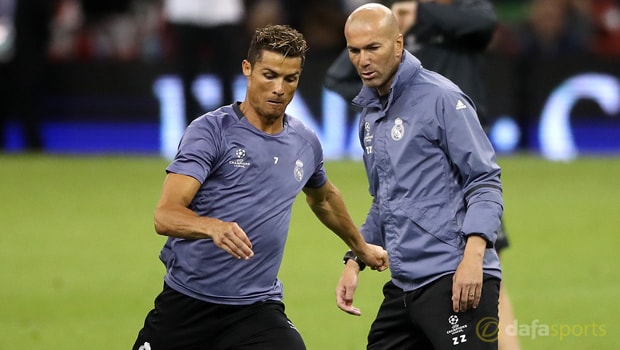 Real Madrid coach Zinedine Zidane is confident that star striker Cristiano Ronaldo will still be at the club for "the next two or three years".
The 32-year-old was linked with an exit earlier this summer, over a perceived lack of support against an ongoing dispute with the Spanish tax authorities.
Former club Manchester United were reportedly ready to help him leave Madrid but Red Devils boss Jose Mourinho admitted the deal was impossible to pull off.
The four-time Ballon d'Or winner is currently enjoying an extended break bit Zidane is still expecting him to report for training in a month's time.
He told reporters: "There has been a lot of talk surrounding Cristiano, that he wanted to go.
I only believe in one thing – whenever I've spoken to him, he has been very relaxed.
"He's on holiday and he will be back with us on the fifth (of August).
I listen, just like everyone else, but the only thing I'm concerned with is what he wants to do with Real Madrid.
"He'll be here with us on the fifth and I think he'll stay for the next two or three years he's got left with us."
Madrid are not expecting Ronaldo to return to training until they return to Spain and Zidane is confident he will be ready for the new La Liga campaign, with his team 1.91 favourites to win the title.
He added: "He's on a very well-deserved holiday after the year we've had.
He has to come back in and we'll look at when he'll get some playing time. I'm sure he'll be ready in no time."
Leave a comment