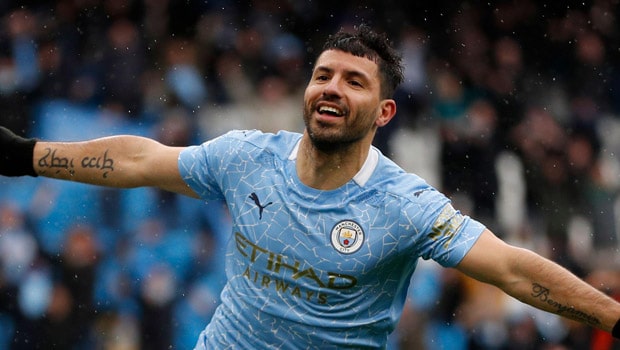 As Sergio Aguero gets ready to join Barcelona with a new season, the Argentinian has left behind the legacy that will surely be remembered among the best ever not only in the club itself but also in the Premier League.
Ever since the Argentinian joined Manchester City in 2011 from Atletico Madrid, he has seen many days of success, winning the Premier League title a total of five times, in 2011/12, 2013/14, 2017/18, 2018/19 and reclaiming the title in 2020/21 season.
Out of 275 appearances for the club, he has scored a total of 184 goals and has been involved in 47 assists, a record that speaks the volume of the talent of the player. In his farewell appearance for Manchester City, Aguero broke Wayne Rooney's Premier League goalscoring record as Manchester City beat Everton 5-0 at the Etihad Stadium.
Ever since he joined Manchester city, Aguero has managed to take his tally of goals to double figures (except in the 2020/21 season where his run was barred by knee injuries).
Yet the striker managed to score twice in his final premier league game, although he is not entirely fit and his official final appearance for Manchester City is set to face Chelsea in the all English final of UEFA champions league on 29th june.
The impact of Aguero on the Premier League is so huge that for some experts he is the greatest striker in Premier league history as well as his arrival in England is also considered among the biggest things that happened in the Premier league last decade.
Leave a comment