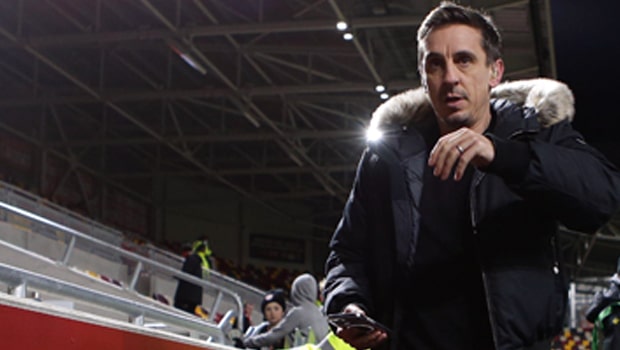 Former Manchester United defender Gary Neville has showered praise on Liverpool star duo of Trent Alexander-Arnold and Andrew Robertson. The pair were at their best against Tottenham Hotspur during their previous match of the Premier League on Sunday.
Neville added that he hasn't seen such good performances in the Premier League and compared the duo with Kevin de Bruyne, David Beckham, and Steven Gerard.
The match ended in a 2-2 draw though at the Tottenham Hotspur Stadium. Harry Kane scored the opening goal for the home side whereas Diogo Jota equalized for the tourists in the 35th minute.
The visitors took a 2-1 lead after Andrew Roberston scored in the 69th minute of the game. Son Heung-min helped Hotspur equalize in the 74th minute as the home side shared the spoils.
Gary Neville said, "I don't think I've seen two full-backs play in the Premier League that are as good as these two as a pair. The way in which they combine on the pitch, the way they play the game, they're an absolute joy."
"Robertson with his consistency does everything well. Defends well, he's competitive – slightly too much at the end – but he scored a goal and set up a goal."
The former Manchester right-back heaped praise on Trent Alexander-Arnold and believes the Liverpool star is a combination of de Bruyne, Beckham, and Gerard as he has all the traits.
"Alexander-Arnold is an absolute phenomenon when it comes to the quality of his passing, his delivery. It's something I've never seen before from a full-back. It's like De Bruyne, it's Beckham, it's Gerrard, and they're attacking players. He's playing at right-back, it's the highest accolade I could pay him."
"The contribution these two make is unbelievable. It's bizarre to me. I grew up saying let the full-back have it. You can't let these two have it."
On the other hand, Andrew Robertson was sent off in the 77th minute of the game when he tackled Emerson Royal.
Liverpool will next face Leicester City in the quarterfinal of the EFL Cup on Wednesday.
Leave a comment