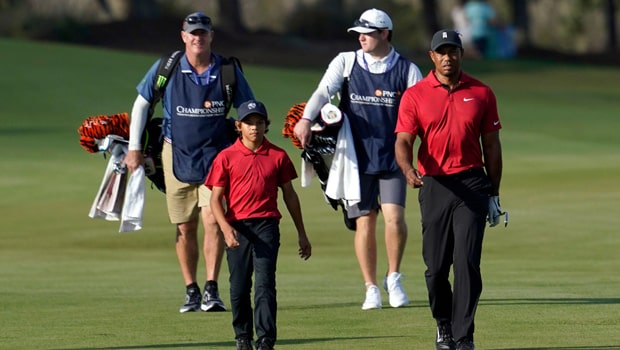 Tiger Woods and his son, Charlie, had a run of 11 consecutive birdies to finish second place at the PNC Championship.
Tiger Woods, who was playing in his first competition since February, had to move around the golf course in a cart, as his legs still do not feel strong enough yet. But he was able to put up a stunning performance that just proved to people that he still has it in him, not like anyone was doubting.
The younger Woods was also exceptional as he made a few putts. Tiger later described him as "an unbelievable player and partner." Team Woods were able to card a 15-under-par 57, narrowly missing out of first place. Team Daly, who took first place, had the advantage of finishing the tournament at 25 under, against Woods' 27 under.
Team Woods began the final round three shots behind. But they quickly advanced with back-to-back birdies on the first two holes, followed by an eagle on the third. Then from the par-four seventh, the duo made birdies on every hole till they got to the last, where neither succeeded in making a putt from within 10 feet and had to settle for a closing par instead. Team Daly also had a good run as well and crowned their play by making a birdie at the last hole. Team Thomas, who entered the competition as the defending champion, finished tied at third place.
Speaking after the event, Tiger Woods talked about his experience playing and how happy he was that he had a cart to move around the course with: "I'm just happy and thankful that I'm able to do this," he said afterward. I still have my own leg, which was questionable for a while, and it's functioning. I'm just really tired – I'm not used to this. I think this might be only my fourth or fifth round of golf this year. I'm a little worn out. It was nice to have a cart."
Leave a comment