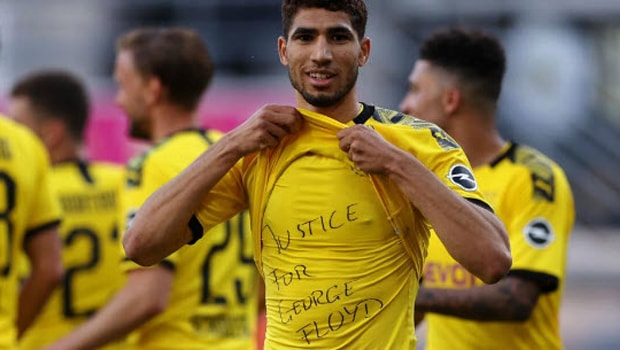 The German Football Association DFB has on Wednesday released a statement that Bundesliga players are at liberty to display their support for the rally going on in the United States following the death of an unarmed black man George Floyd murdered in Police custody.
The DFB has now revealed in a statement there wouldn't be any disciplinary actions taken against Borussia Dortmund's Achraf Hakimi and Jadon Sancho, Schalke 04 Weston Mckennie or Borrusia Monchengladbach Marcus Thuram as they all showed their support during their games.
During Dortmund's game against SC Paderborn, Jadon Sancho was shown a yellow card after pulling his shirt, which reads "Justice for Floyd." Even though the purpose of his booking was for removing his shirt in place of the slogan.
Regarding situation as this, the soccer world governing body FIFA forbids players sharing their personal views about politics, religion, and social issues on the field of play and cautioned with applying "common sense " in handling such situations.
The DFB has come out to say no actions will be taken against symbols of solidarity with the ongoing unrest in the U.S and across the globe.
"This line will be acted upon should any player make demonstrations on racism and the demise of Floyd during the upcoming matchday games " statement reveals.
However, FIFA president Gianni Infantino has said that any player who supports the protest will not be punished but rather be applauded.
Leave a comment