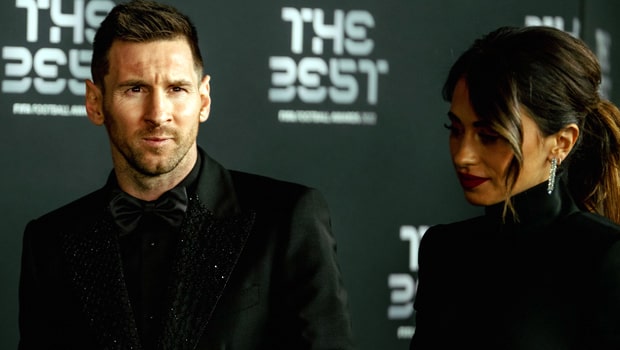 Lionel Messi's wife, Antonela Roccuzzo, appears to have shed light on the meaning behind a new celebration that garnered attention after Inter Miami's impressive 4-0 victory against Atlanta United.
The match was a memorable one for Messi, the seven-time Ballon d'Or winner, who scored two goals, securing Inter Miami's place in the Leagues Cup knockout stages. He first opened the scoring just eight minutes into the game and swiftly doubled his tally with a close-range finish.
Following his second goal, Messi celebrated in a special way, directing the celebration towards his sons Thiago, Ciro, and Mateo, his wife Antonela, and his mother Celia, all of whom were elated to witness the Argentine star's remarkable start in Florida.
Initially, many speculated that Messi was debuting a 'hold my beer' gesture after scoring. Roccuzzo later provided an update on Instagram, sharing a picture of Messi in her stories, in which the FC Barcelona legend is seen celebrating alongside a Thor-related GIF.
As it turns out, Thiago Messi's favorite superhero is the Marvel character Thor, and Messi wanted to pay homage to the Asgardian God of Thunder by mimicking Thor's iconic gesture of holding out his hand expectantly for the arrival of his hammer.
According to the Spanish publication AS, Messi was delighted to see the enthusiastic reaction of his sons to the celebration during the game, leaving him with a smile on his face.
During the celebration, Inter Miami co-owner David Beckham was also seen smiling at Messi, clearly pleased with the impact the superstar was making.
Messi's arrival in Major League Soccer was undoubtedly one of the biggest signings to date, and after the deal was officially announced, Beckham expressed his delight, considering it a dream come true to have Messi on board.
Leave a comment