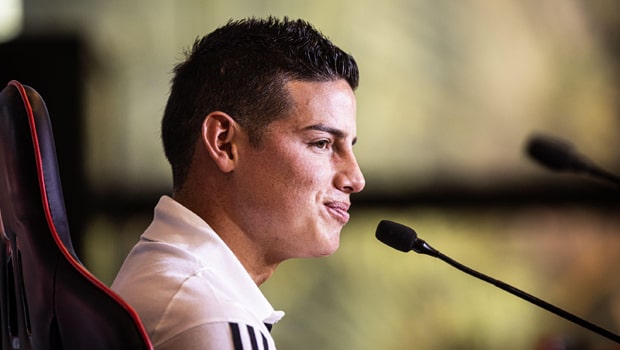 James Rodríguez has officially signed with the Brazilian club São Paulo. Journalist Vene Casagrande reported that the Colombian player finalized his contract with the team after days of negotiations between his representatives and the club's leadership.
His introduction to the fans took place on July 30, during São Paulo's match against Bahía on the 17th matchday of the Brasileirao. The presentation occurred before the kickoff at the Morumbi stadium. As of July 29, São Paulo currently sits in sixth place in the league with 25 points, trailing the leaders Botafogo by 15 points.
Rodríguez has been away from official matches for over three months since departing from Olympiacos, with his last game played on April 9. During his time in Greece, he featured in 23 games, starting in 18 of them, scoring five goals, and providing six assists.
The Colombian star is now focused on regaining his form for the start of the 2026 World Cup Qualifiers. Colombia's World Cup journey commences in September with matches against Venezuela in Barranquilla and Chile in Santiago.
Rodríguez's road so far
Rodríguez had previously led Colombia on an impressive run to the quarterfinals in a previous tournament in Brazil. His performances captivated fans with his slick dribbling, skills, and some incredible goals.
In the 2014 World Cup in Brazil, Rodríguez even won the golden boot, scoring six goals. Memorable moments included his solo effort against Japan and a sublime volley in the round of 16 against Uruguay, which earned him the goal of the tournament recognition.
Following his stellar World Cup performances, Rodríguez attracted the attention of Real Madrid, and the European champions secured his services for £63 million from Monaco. At the Bernabéu, he served as a playmaker behind the famed Bale-Benzema-Ronaldo front three. His first season in Spain saw him amass 13 goals and 13 assists in La Liga, although Real could not retain the Champions League.
However, injuries started to hinder his progress, particularly during his time in Germany. After returning to Real Madrid from a two-year loan spell, Rodríguez found limited playing time in the 2019-20 season, featuring in only 14 appearances.
Subsequently, he joined Everton in 2020 under the management of his former Real boss, Carlo Ancelotti. While the move initially looked promising with Everton topping the Premier League, James' fitness suffered, and he missed several matches due to calf issues as the season progressed.
After one campaign with Everton, he moved to Qatar for a year with Al-Rayyan before joining Olympiacos for six months. Now, Rodríguez reflects on a career that, despite immense talent, has been hampered by injuries. Nonetheless, many still believe that given the chance, he could shine once more and fulfill his potential on the field.
Leave a comment