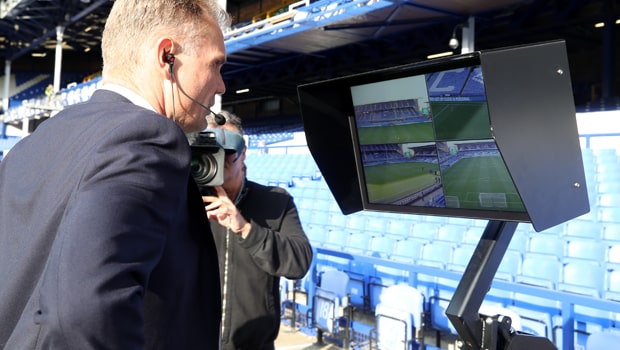 Football is a game that unites people regardless of race. It is played and watched by
millions all over the globe. As the game is being played, there have been a lot of reviews and ideas implemented by the football governing body called (FIFA) into the game.
As time goes by, football begins to have human errors from referees. Situations keep arising in matches whereby a simulation by a player in the 18- yard box without the proper viewing of the referee is awarded a penalty. So many games have been played with referees making wrong decisions based on their initiatives. This has caused numerous controversial moments during matches causing the results to swing in favor of a losing competitor. This error has happened in a major tournament like World Cup, UEFA competitions (Champions League, Europa League, etc.).
After complaints by fans, Pundits and even players themselves, the footballing body FIFA brainstormed and came up with the idea of a Video Assistant Referee.
What is V.A.R.? (Video Assistant Referee)
A Video Assistant Referee (V.A.R.) is a match official where it's functionality is to review the decisions made by the head referee with the use of video footage and a headset for effective communication.
V.A.R.s came into being where it was first written into the laws of the game by the International Football Association's Board. (IFAB) in 2018.
The V.A.R. system works in such a way that it seeks for a way to clarify glaring errors and serious missed incidents to be amended.
However, there are four categories of decisions that can be reviewed by V.A.R.
Category 1
Goal / No Goal – This category here reviews the following scenarios: an attacking team that commits an offense, or the ball being out of play, offside, ball entering goal, offenses for handball, and encroachment during penalty kicks.
Category 2
Penalty / No Penalty
This category reviews an attacking team who committed an offense, ball out of the game, the location where the fault is committed, incorrect awarding, and offense not penalized by the head referee.
Category 3
Direct Red Card:
This category reviews denial of a goal-scoring opportunity, serious foul play, violent physical conducts, or using abusive/insulting/ language or gestures. All straight Red cards are subject to review.
Category 4
Mistaken Identity
The V.A.R. keeps in check of this in case of a wrong awarding of a red or yellow card by the head referee to a certain player
Leave a comment