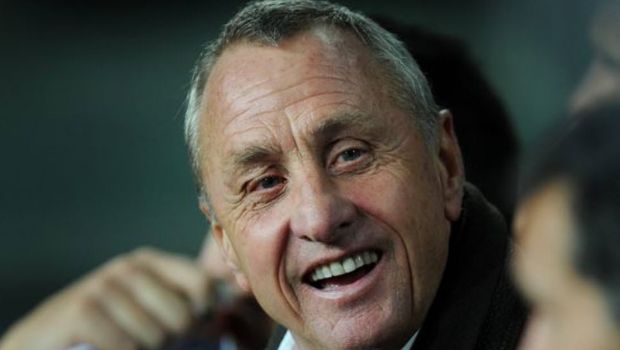 Johan Cruyff loved Ajax so much that his mom made his first soccer uniform, it had a white jersey with a red stripe, reflecting the colors of his team.
Born on April 25, 1947
Died on March 24, 2016
Accolades:
Runner-up in 1974 FIFA World Cup with Netherlands
Three European Cups with Ajax in 1971, 1972, 1973
Eight Leagues and Five Cups with Ajax
One European Cup as a head coach with FC Barcelona in 1992
His father had a grocery store and he dreamt of seeing his son Johan play for Ajax. The Cruyff family lived in Betondorp, Amsterdam, three blocks from Ajax's Stadium and Johan Cruyff and his father always talked about Jax.
Cruyff lost his father when he was 12 years old and that obviously marked him. His future was uncertain, he only knew that he wanted to play soccer so he joined Ajax. His mom then started working at the team as well to be closer to him and he trained daily.
Johan Cruyff knew that his thin frame would not allow him to compete with other young players so he worked on his strength like very few have and learned ways to avoid crashing with his opponents. He was brilliant, learning in one day what took others months and years to master.
He debuted with Ajax in 1964 under RinusMichels. This was just the beginning as it led to FC Barcelona and the Netherlands national team. Cruyff scored 190 goals in 240 games with Ajax from 1964 to 1973 and 14 goals in 36 games from 1981 to 1983. He also scored 33 goals in 48 games with Netherlands.
Cruyff changed soccer. He had it all: intelligence, speed, goal, dribbling, leadership, creativity, personality, he was a perfectionist and he was versatile.
Leave a comment