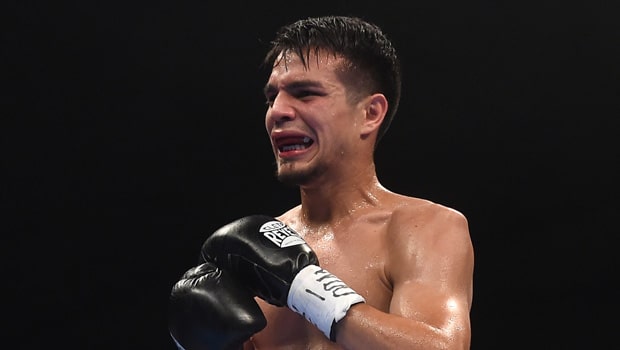 Jose Zepeda has emerged as the winner of the light-welterweight fixture between him and Ivan Baranchyk after a fifth-round knockout. Baranchyk had the upper hand in the fight, knocking down Zepeda twice in the first round, but he still succumbed to a punch from Zepeda which sent him to the floor, bringing the fight to an end.
The first round began with Baranchyk displaying strength and prowess, throwing a left hook, then a right, to drop Zepeda. A few minutes later, Zepeda was down again from another left hook. Baranchyk kept throwing punches and dominated the round till it came to an end.
The second round began with Zepeda eager to get back at the Belarusian as he threw that dropped Baranchyk for the first time. But Baranchyk was not willing to let Zepeda get away with it as he also sent a punch that forced his opponent to the ground for the third time.
The third round followed the same pattern as the two fighters sought to outdo each other. Zepeda wasted no time in sending Barachyk to the floor for a second time. Zepeda was able to dominate this round, taking the beating from the other guy like the pro that he was and staying on top by all means. In the fourth round, Zepeda was able to send Baranchyk to the ground again for the third time. By this time, Baranchyk was already getting weak and was finding it difficult to keep up with his opponent, but he still had the energy in him.
The fifth round was where things got finished. Baranchyk's right hand sent Zepeda to the floor for the fourth time and the referee, thinking it was over, proceeded to count to 8, before he could make it official. But Zepeda was back on his feet and this time used his right hand again to punch Baranchyk for a knockout. There was no doubt, Zaranchyk was not getting up anytime soon. And so the fight came to an end at the mark of 2:50.
By winning the fight, Zepeda claimed the WBC silver light-welterweight title. It was also his 33rd win out of 37 fights in his professional career as well as his 26th win by KO.
Speaking after the fight, Zepeda said, "I feel great because I won the fight. It was a hard fight, and I'm thinking: 'Man, boxing is hard. It's no easy game.' Boxing, it's tough, and you have to give it 100% because it's a hard sport. Both of us are climbing up, and somebody had to stay. I was able to win the fight, and I told him: 'Thanks for the fight. It was a great fight." He described the fight as a great learning experience.
Leave a comment