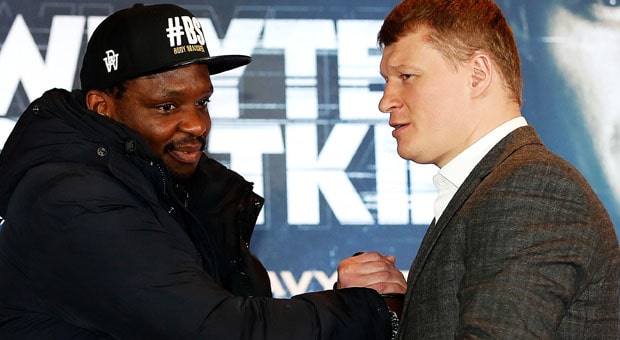 This year has some very interesting boxing fixtures and recently added to the list is the second match between Dillian Whyte and Alexander Povetkin. The two heavyweight fighters met last year August where Povetkin won the match after knocking out Whyte in the fifth round.
The rematch was initially slated to hold last year November but had to be shifted after Povetkin tested positive for coronavirus. Now, the rematch has been confirmed to hold on March 6 and the 32-year-old Whyte is set to take his revenge. The venue for the fight is still yet to be decided but possible options include the Middle East, Gibraltar, and Monaco. But the fight would most likely take place behind closed doors without any spectators present.
For Whyte, it is all about revenge. He has hinted he was disarmed by Povetkin's surprisingly cool demeanour, days leading to their first fixture and even on the ring, and how that contributed to his performance that day. But now, Whyte is prepared to take the win and he is prepared to "smash his face in".
He also mentioned how Povetkin may have been trying to delay the fight by using the virus as an excuse as the fight was first pushed to this month but had to be delayed. Whyte had this to say, "I'm just glad that there is nowhere for him to try and hide behind and try and run. He wasted time, letting me get ready for two fights, and then cancelled them at the last minute. I'm glad. He pretends to be this nice, humble guy, but he is talking s**t. Of course, I'm going to be annoyed. I'm not going to be sat there and laughing. I had a great camp. I'm going to be p***ed off and annoyed."
Whyte has a reputation of being a nasty talker but he has always had the means to back it up, having suffered just 2 defeats from 29 professional fights, winning 27 of them by KO. But Whyte's anger is doubled now as he feels he was a bit manipulated in the first fight; "I've always got a spiteful, nasty streak, but if someone is being respectful it's difficult to be a certain way. Now he's showing his true colours and he will pay for it. I am going to hurt him."
Whyte is determined to go to the ring on March 6 with every drop of venom he has got. Winning the fight would give him the right to face Tyson Fury for the WBC belt before Fury's fixture with Anthony Joshua later this year.
Leave a comment