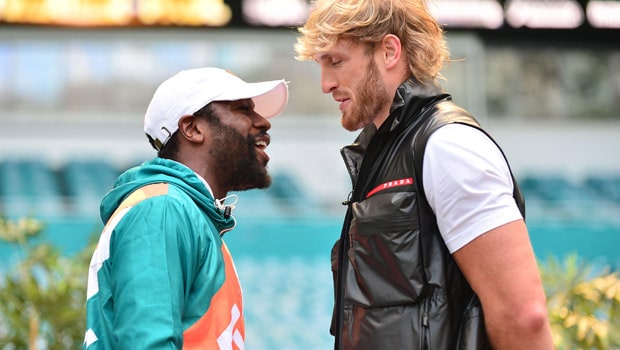 This weekend, the world would witness one of the most unusual matchups in boxing history as former heavyweight champion, Floyd Mayweather takes on Youtuber Logan Paul in an exhibition match. An exhibition match means there is nothing like a belt or a title at stake and the fight would not be added to the professional record of the two fighters.
Before we go any further, let us look at their fighting history. Mayweather has a record of 50 wins from 50 fights from a career that spanned almost two decades. He retired for the second time in 2015 after defeating Andre Berto. In 2017, he came back into the ring and defeated Connor McGregor via a technical knockout in the 10th round. He is one of the most successful boxers of all time winning fifteen major world titles including lineal championships in four weight classes.
Logan Paul runs a YouTube Channel with 23 million subscribers and has a boxing record of 1 loss from 1 fight. In 2019, Logan Paul faced KSI and lost in a sixth round defeat. He has no other boxing record.
From the looks of it, one can tell that this would be Mayweather's easiest fight, even easier than how he had it when he was an amateur. At this point, he has nothing to prove to anybody so one can expect the fight to be a total walkover for him, as he said recently in an interview, "I just got to show up," Mayweather told Barstool Sports. If I want it to go one round, it'll go one round." For Paul, it would take a lot for him to deliver a punch that would stun the former world champion, even though he has had a lot of talking to do. A victory for Paul is not something anyone is considering, not even Paul himself.
The match would reportedly earn Mayweather almost $100 million. His 2017 fixture with McGregor earned him almost $300 million. No matter how much he makes from the fight, it would be one of the fastest money he has made in his career.
The eight-round exhibition match would hold at the Hard Rock Stadium in Miami Gardens, Florida on Sunday, June 6.
Leave a comment