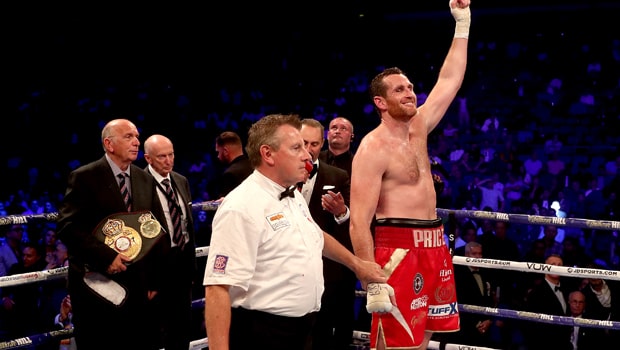 British professional boxer David Price seems to be back from the dead and is in the best form of his life at the moment. However, the Brit boxer has hit a brick wall as he decides on the next path to take in his career. He has a very important decision to make in his boxing career.
The 36-year-old boxer defeated his previous opponent Dave Allen in a match which he mostly dominated. Now, with that victory, the Liverpudlian sent a clear message to critics, his lovers and other fans of boxing that he is not done yet.
A few months ago, his opponent Kash Ali vowed to send the Merseyside boxer into retirement, claiming he would have to take another job, sparking up a heated feud. The usually calm Price was provoked by Ali's belittling comments prompting a violent response from the boxer. Only a few have seen him express himself in such a manner in front of the cameras.
During their domestic clash in March at Liverpool's Echo Arena, Price showed his discipline immediately after the first bell was rung. During the course of the match, both professionals were involved in a debacle which ultimately resulted in an immediate fifth-round disqualification for Ali.
It happened after Price gave a skillful blow, resulting in a grapple, with Kash Ali appearing to be biting Price. The United Kingdom native was hit with a six-month ban as a penalty for his unprofessional behavior. This summed up Price's total wins in 24 fights and six defeats and poor Ali's first loss in his 16 fights.
Despite the win, Price will be kicking himself as it was not the most satisfying of victories. The match reminds of his December stoppage of Tom Little, who complained bitterly about the referee's intervention, but the former British champion was adding to his tally in the winning section.
When Price had his domestic clash with Allen, he could not contain his emotion after victory at The O2 in July. After 10 dominating rounds, the terribly-battered Allen had to be rushed to the hospital. The humiliated Allen is now set to retire with a total of only 5 losses.
However, Price's fans were very excited about his victory, tagging it a "masterclass" following the former's victory after suffering for so long.
Since Price is only a step away from being named internationally as a global title contender, he must carefully consider his options for his next fight before the end of the year.
Leave a comment