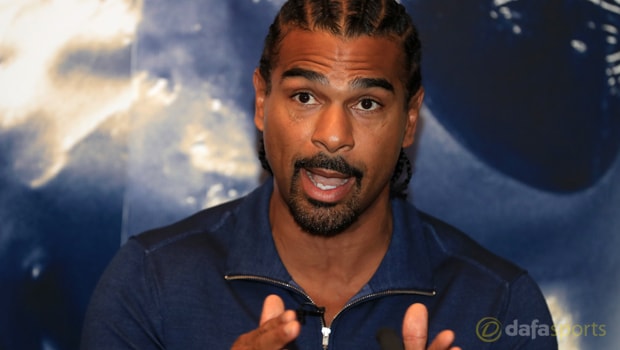 David Haye says his key motive for a rematch against Tony Bellow is revenge, and he believes his opponent will lack similar motivation.
Haye likened Bellew's victory at the O2 in March to a robber trying to 'secure his family' by stealing a fortune, and he insists he isn't sure why his opponent is coming back for seconds.
The British heavyweights put on a memorable show first time around, Haye gallantly boxing on despite sustaining an Achilles injury mid-fight, while underdog Bellew gained plenty new respect for the pressure he was able to exert on his opponent before an 11th round stoppage.
The pair have signed up to meet again at the London venue in December and Haye questions the motivation his opponent will have second time up.
"People rob banks to secure their family," Haye said.
"Would you go back to rob that same bank again? Is your hatred so bad for the clerk behind the desk that you need to do it again? "Bellew's motivations were clear – he wanted to secure his family.
He's a multi-millionaire – welcome to a very small club of British boxers who don't have to box, they are comfortable.
I ask myself: what are his motivations going into the second fight?"
Former cruiserweight and heavyweight champion Haye says he did not expect to be granted a second chance to face the Liverpudlian, and he is eager to make it count this time.
"I didn't believe I'd get this opportunity again. I didn't think it would happen. Tony, for some reason, wants to do it again," he added.
"My motivations are for revenge, I want to be the best heavyweight in the world.
He doesn't want to fight Anthony Joshua or Deontay Wilder because he isn't big enough.
So why go back into the lion's den? "I will not allow Tony Bellew to hear the final bell. I am very healthy, in very good condition."
Leave a comment