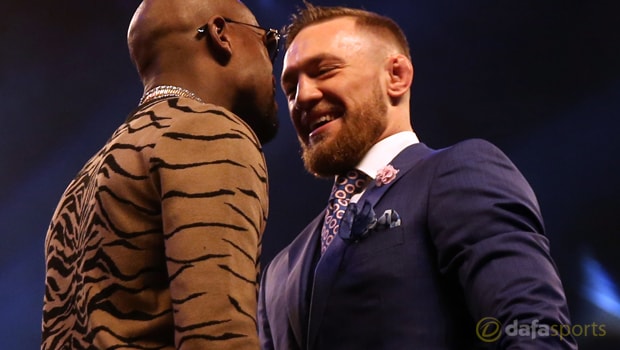 UFC president Dana White says it is 'crazy' that people are willing to write off Conor McGregor's chances again Floyd Mayweather in their impending super fight in Las Vegas.
White also insists the Irishman has 'no concern at all' regarding the Mayweather punches that will be coming his way on August 26.
McGregor will be making his pro boxing debut in the T-Mobile Arena against Mayweather, whose professional record is 49-0. White has watched McGregor's UFC career at close hand and suggests it will prove folly to write off his chances.
"I stopped doubting Conor McGregor a long time ago," he said. "Everything he's told me he's going to do, he's done, so if he says he'll beat Floyd Mayweather inside four rounds, he will.
"I don't think Conor underestimates him, he obviously respects him but you've got to remember – Floyd is 41 years old and Conor McGregor is 28 years old.
"He's the bigger, stronger fighter. People aren't giving him a chance and that's just crazy. This is going to be a fight, and anything can happen in a fight."
According to White, the outcome of a hearing with the Nevada State Athletic Commission on the option of using reduced size 8oz gloves in the fight could have a big say on the night.
If permitted, the smaller gloves will be of benefit to the underdog, he contends.
"We've always wanted to have smaller gloves, they didn't want it and now all of a sudden Floyd has decided that he wants smaller gloves," he added.
"So now we have a hearing with the state commission this week and hopefully that will happen.
"Conor isn't concerned about Floyd's punching power at all." McGregor is 4.50 to win the Vegas bout, while Mayweather can be backed at 1.60 to win by KO/TKO/DQ/TD.
Leave a comment