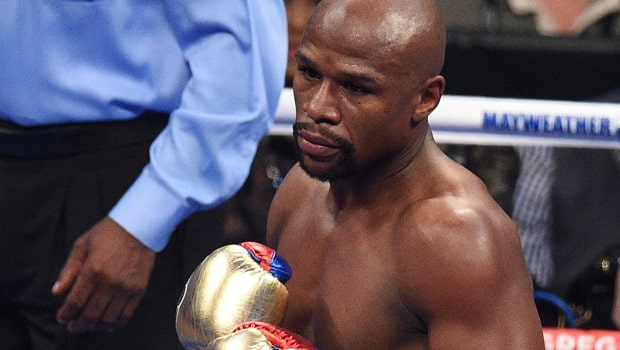 Floyd Mayweather has told UFC fighter Khabib Nurmagomedov he'll have to 'come into my world' if he wants to take him on.
Nurmagomedov extended his unbeaten mixed martial arts record to 27-0 with his controversial victory against Conor McGregor in Las Vegas earlier this month.
Since that success the 30-year-old has made it clear he'd like to emulate McGregor by taking a shot at Mayweather, the former five-weight world boxing champion with a perfect 50-0 career record.
The American is open to the idea, but has warned Khabib that any showdown will be taking place in a boxing ring, not the UFC octagon.
Mayweather's high profile showdown with McGregor generated more than £450m in revenue and earned him a £210m purse. He says a bout with Khabib could surpass those numbers.
"When I face Khabib, of course I am getting a nine-figure payday," Mayweather said.
"More than the McGregor fight. Probably $100m more – I'm going to say between $110m and $200m (more) guaranteed."
Mayweather hasn't boxed since he defeated McGregor, though a return to take on fellow veteran Manny Pacquiao has been mooted recently.
The 41-year-old has told Khabib to 'make it happen' if he wants the fight, though only on the right terms and in the chosen environment.
"I'm my own boss, so I can't say what's going on at Khabib's end, but at my end we can make it happen," he added.
"I'm Floyd Mayweather. I'm the A-side, you call me out you come into my world.
"I don't know no other fighter that has done the numbers I have done. I don't know any fighters that have made the money I have made, so he called me out – come into my world, make it happen."
Leave a comment