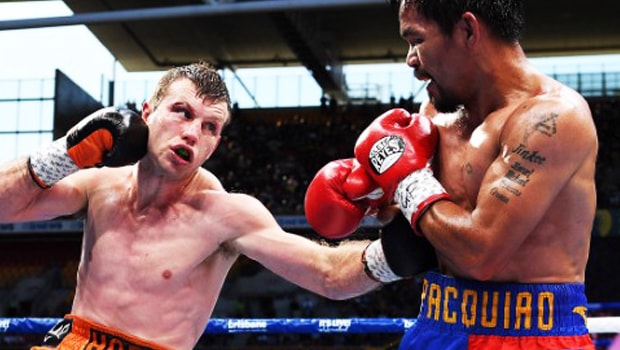 Australian boxer Jeff Horn has knocked the 'naysayers' who said he did not deserve to beat Manny Pacquiao at the weekend.
Horn beat Pacquiao, an eight-time world champion, following a unanimous points decision in Brisbane.
The newly-crowned WBO world welterweight title-holder has dismissed suggestions he did not deserve to win the bout.
Pacquiao's coaches, along with some pundits, have suggested that the judges got their decision wrong, but the 29-year-old former schoolteacher has no doubts he was a worthy victor.
"There will always be a backlash where people say I got lucky, or whatever," he told reporters on Monday.
"There will always be the naysayers saying I did not win the fight, but I felt like I won the fight.
A lot of Queenslanders think I won the fight and people around the world."
Pacquiao's Australian coach, former heavyweight boxer Justin Fortune, had described the referee as 'sketchy' and the judges as 'crazy' following the bout.
Pacquiao, 38, had no problem congratulating his opponent and said he respected the decision of the judges.
A partisan crowd of more than 51,000 watched the bout at Brisbane's Lang Park stadium.
Horn set up his victory with an aggressive start before both fighters tired in the final rounds and Pacquiao dominated the final exchanges.
Many felt the Philippines fighter had done enough to turn the fight around but all three judges scored the bout in favour of the Aussie underdog.
Horn insists that he wants to face unbeaten American Floyd Mayweather next, while he also said he would consider a re-match against Pacquiao.
Leave a comment