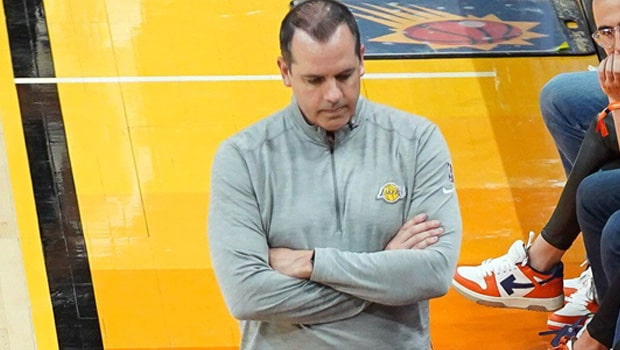 It has been a tumultuous season for LA Lakers as they failed to come up with consistent performances and it led to their downfall. Lakers were knocked out of the play-in tournament contention after losing to Phoenix Suns by 121-110 on Tuesday. Furthermore, San Antonio Spurs won against Denver Nuggets by 116-97, which officially eliminated the Lakers.
As expected, the team's head coach Frank Vogel was disappointed after the side could not even manage to qualify for the playoff stages. In fact, the Lakers were regarded as one of the favorites to go all the way after they had roped in Russell Westbrook during the off-season.
However, injuries hampered the franchise's progress this season. In fact, the Big Three of the team – LeBron James, Anthony Davis, and Russell Westbrook – played together in only 21 matches of the season, in which the team went 11-10.
"Extremely disappointed," Lakers coach Frank Vogel said. "Disappointed for our fan base. Disappointed for the Buss family, who gave us all this opportunity and we want to play our part in bringing success to Laker basketball and we fell short."
Lakers veteran player Carmelo Anthony added that they had the resources but could not come up with consistent performances.
"We just didn't get it done," said Carmelo Anthony. "We had the tools. Some things were out of our control — some things we could control, some things we couldn't. And it's nothing else more than we didn't get it done. You can't make any excuses about it. We just didn't get it done."
Anthony Davies also spoke on the same lines and feels the injuries was the reason behind their dismal show in the season.
"Our goal was to win a championship," he said after putting up 21 points and 13 rebounds. "Feel like we had the pieces, but injuries got in the way of that. And that was the difference in the season. I think even though we lost games where all of us was on the floor — me, Bron, Russ — I think we're three great players, but we would have figured it out if we logged more minutes together. But we weren't able to do that, which makes it tough to be able to compete for a championship when your three best players haven't logged enough minutes together."
Lakers will next take on Golden State Warriors on Thursday.
Leave a comment