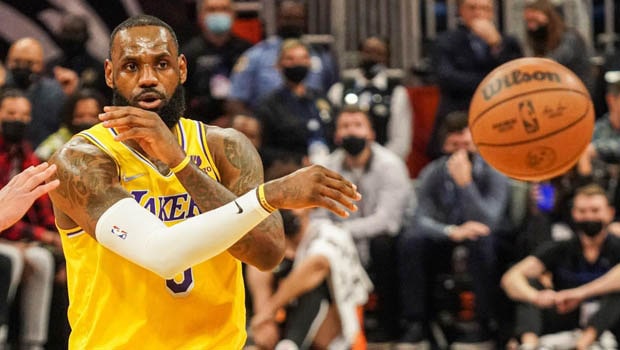 LA Lakers has had a torrid run in the ongoing NBA 2021-22 season. Lakers suffered another disappointing loss against Dallas Mavericks by 109-104 on Tuesday night, which takes them to 27-34. They are currently in ninth place in the Western Conference standings and things certainly look gloomy for LeBron James and Co.
Once again it was a similar story for LA Lakers as LeBon James top-scored with 26 points but none of the other players could make a substantial contribution. It is also well known that James has a never-say-never attitude and he is willing to fight till the end. James is still confident that his team can turn the corner in the remaining matches as they have a chance to bounce back stronger.
"We still have games to play," James said after the loss. "Until you stomp me out, cut my head off, bury me 12 feet under, then I got a chance. So that's my confidence."
On the other hand, Russell Westbrook continued his poor form. Westbrook could only add 12 points in 38 minutes and shot 5-17 from the field.
"Got to be better overall," Westbrook said of his play. "What I'm doing right now ain't good enough. It ain't good enough."
However, the 33-year old expressed confidence that the Lakers will be alright and they will bounce back stronger.
"Super confident that we're going to be all right," Westbrook said. "I've got confidence in this group, like I always have. And we can play the best teams. I'm not worried about nobody we have to play. We've beaten the best teams; we've lost to some of the worst teams. So, our confidence and my confidence in this group is extremely high because I know what we're capable of when we put our mind to it and do exactly what we need to do on a night-in, night-out basis."
James admitted that his team needs to come up with better performances in order to start winning. Lakers have lost 10 out of their last 13 matches.
"Obviously, at the end of the day, we got to come in here and win ballgames, and we got to play better. But as long as we've got more games to play, we should have a chance," James said. "So, that's my confidence. I hate losing. I feel like poop right now. But tomorrow is a new day, and I'm going to be prepared and ready for the Clippers on Thursday. That's just — that's my mindset. That's just who I am."
Lakers will next take on LA Clippers on Thursday night.
Leave a comment