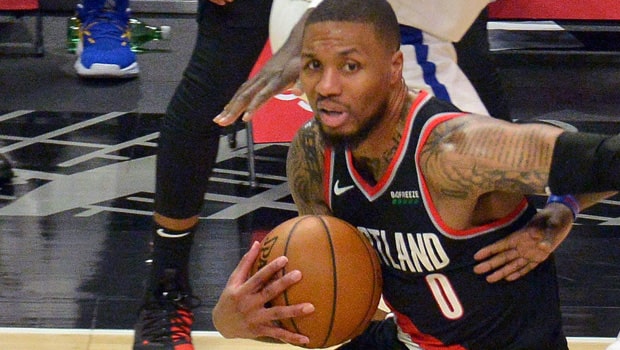 Portland Trail Blazers talisman Damian Lillard has expressed his displeasure at the way the game is being officiated in the ongoing NBA season of 2021-22. The NBA had revealed a new rule which curbs offensive players leaning into defenders to draw fouls.
Thus, a lot of offensive players have struggled with the new rules as they haven't been able to get the best out of themselves. Portland Trail Blazers lost their match against LA Clippers by 117-109 and Damian Lillard is not at all impressed with the new rule change.
"I feel like the way the game is being officiated is unacceptable," Damian Lillard told reporters. "I don't want to go too deep into it, so they make a big deal out of it, but the explanations, the s*** that's getting missed, I mean, come on…"
Lillard added that he is not the kind of offensive player who tries to trick the referees and he tries to always play the game in a fair way.
"I'm not that type of player – I felt like coming in, the rule change wouldn't affect me, because I don't do the trick the referees, I don't do the trick plays. It's just unacceptable, man."
"Then the explanations and the remarks in return when you're telling them is just like… I don't really have anything else to say about it."
The new rule has impacted Damian Lillard as he made 7.2 attempts per game in the previous season from the free-throw line but is currently averaging a career-low 3.2 in this edition.
On the other hand, Brooklyn Nets linchpin James Harden has also suffered due to new rule changes.
Harden said, ​​"Yes, for sure, but I'm not the type to complain about it. I just ask every official: if they see a foul, call a foul. Sometimes I feel like coming into a game, it's already predetermined or I already have that stigma of getting foul calls, but I just ask officials to call what they see."
"I can't stop playing basketball. I mean, a foul is a foul no matter what league it is. But it's bigger; I've got to play better obviously. That's it."
Leave a comment