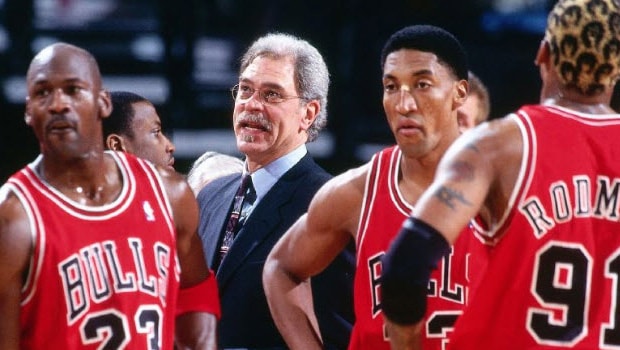 In 1993, the Chicago Bulls became the third team in NBA history to win a three-peat. Many of the players in the 1992-93 Bulls are still involved in basketball. 
Michael Jordan
Michael Jordan was the star, averaging 32.6 points, 6.7 rebounds and 5.5 assists in 39.3 minutes over 78 games. MJ didn't win the NBA MVP award that year and in Episode 6 of 'The Last Dance' he admitted that he was upset about it. Charles Barkley was crowned MVP before his Suns faced the Bulls in the 1993 NBA Finals.
"I was a little bit upset that I didn't get the MVP that year and they gave it to Charles Barkley. But with that said, OK fine you can have that, Imma get this," Jordan said.
The Bulls won the series 4-2 and MJ retired because of the death of his father. He returned to the NBA in March of 1995 and led the Bulls to three more NBA Championships.
MJ retired for three seasons in 1998 before coming back to the league as a member of the Washington Wizards for two years. He is the current owner of the Charlotte Hornets, a member of the Basketball Hall of Fame and arguably the greatest player of all-time. 
Scottie Pippen
Scottie Pippen was Robin to Michael Jordan's Batman. Pippen was a key player for the Bulls at both ends of the court, averaging 18.6 points, 7.7 rebounds, 6.3 assists and 2.1 steals in 38.6 minutes over 81 games.
Pippen left the Bulls to join the Rockets and the Trail Blazers after the 1997-98 season before retiring with the Bulls in 2004. Nowadays, Pippen, a Basketball Hall of a Famer like Jordan, makes regular appearances on ESPN's 'The Jump.' 
Horace Grant
Horace Grant had a successful 17-year NBA career, winning three championships with the Bulls and one with the Lakers. He led the Bulls with 9.5 rebounds in the 1992-93 season and also averaged 13.2 points, 2.6 assists, 1.2 blocks and 1.2 steals in 35.6 minutes over 77 games.
Grant left the Bulls after his All-Star season in 1994, which was the best year of his career. He played 10 more years in the NBA, mostly with the Magic and Lakers, winning another NBA Championship in 2000-01 with Los Angeles. Since retiring, Grant has promoted basketball around the world, coaching aspiring athletes and inspiring fans.
Leave a comment