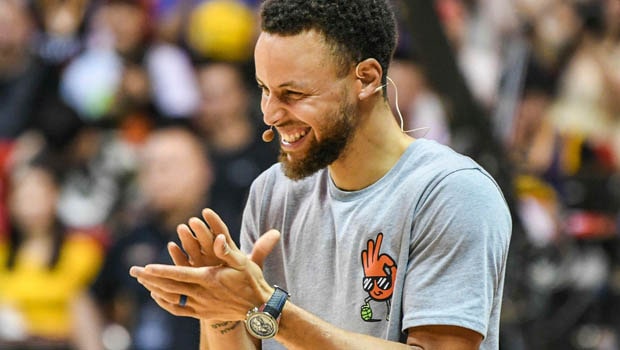 Golden State Warriors guard Stephen Curry scored a game-high 50 points — highlighted by a record 16 three-point field goals — to win the 2022 NBA All-Star Game MVP award. Team LeBron won 163-160 over Team Durant.
LeBron James hit the game-winning basket.
"Obviously I got the MVP; I played well the whole night," Curry said. "He hit the game-winner. All the history of our series and the Akron ties, and all that kind of going into how the night went, so it was pretty — can't really draw it up any other way."
Anthony Davis holds the All-Star Game record with 52 points from 2017.
James finished with 24 points and Giannis Antetokounmpo added 30 of his own for Team LeBron.
"It's crazy that the game-winning shot tonight was a fadeaway, and it was inspired by MJ," LeBron said.
Joel Embiid led Team Durant with 36 points on 14-of-20 shooting and 10 rebounds. Devin Booker added 20 points, LaMelo Ball chipped in with 18 and Dejounte Murray had 17 for Team Durant.
"You look back at my first year after the surgery," Embiid said reflectively. "I lost my brother at that time too. Going back to Cameroon, I really wanted to stop playing basketball and retire. At that point, you just had surgery, and everybody is talking about you're not going to make it.  I had to go through a lot. I'm glad I kept pushing through with the help of everyone around me."
Curry finished 16-of-27 from beyond the arc for the game. He had 24 points at the half on 8-of-11 from downtown.
"This guy is from a different planet," James said after the game. "He literally has an automatic sniper connected to his arm, and when he lets it go, not only himself, but everybody on the floor, in the stands, on TV, on their phones, whatever you are watching on, you think it's going in every time. Nine times out of 10 and sometimes 10 times out of 10, it does go in."
The game's MVP award was re-named in 2020 to honor Kobe Bryant.
"This trophy has a very special meaning honoring Kobe, Gigi and everyone who was lost two years ago," Curry said. "It will have a special place at my house."
Leave a comment