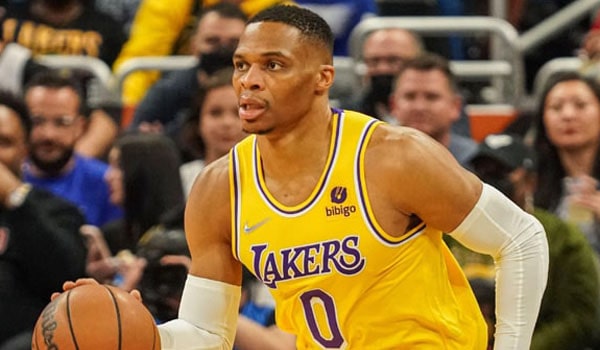 Recently LA Lakers president and owner Jeannie Buss commented that Russell Westbrook was their best player in the previous season of the league. However, NBA analyst Nick Wright contradicted Buss's statements and said Russell Westbrook was consistently terrible in the previous season of the league.
Wright feels it is absurd to say that Russell was better than LeBron James. Meanwhile, Westbrook was expected to make a huge difference while playing for the Lakers and make a winning combination with Anthony Davis and LeBron James.
However, James and Davis could not play consistently for the Lakers due to injury woes. The trio could only play 21 matches together for the Lakers.
"Here's what Russell Westbrook was for the Lakers: He was the most available player," Wright said. "Russ was consistent. He was consistently terrible. Every night – you knew it – Russ was gonna show up play 30-plus minutes and be bad. So, I don't think that's what she was meaning though and calling him their best player is an absurdity."
"All I can say is that, from my point of view, (Westbrook) was our best player last year," Buss said had earlier said. "He played pretty much every single game, showed up, worked hard."
Meanwhile, Russell Westbrook averaged 18.5 points, 7.4 rebounds, and 7.1 assists in 78 games in the previous season and he will be looking to come up with a much-improved show.
On the other hand, James was in stellar form in the previous season as he averaged 30.3 points, 8.2 rebounds, and 6.2 assists in 56 games in 2021-22. He was also selected to play in his eighteenth All-Star games.
Leave a comment