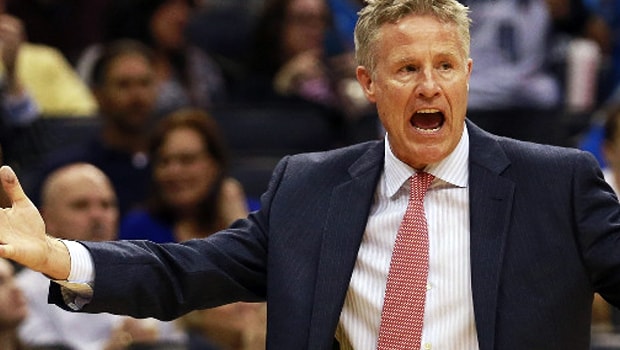 Philadelphia 76ers coach Brett Brown admits his team need to become more clinical with their shooting if they are to take the next step.
Brown saw his side go down 118-109 to the Golden State Warriors on Monday, a result that leaves them unlikely to make the play-offs, with them now 13th in the Eastern Conference.
While the Warriors themselves struggled at times, most notably Steph Curry missing all of his 11 shots at the hoop, their ability to score points in spells saw them through.
Golden State's fourth-straight win saw them consolidate their place at the top of the Western Conference and they look on course for a third straight trip to the Finals, with them the 1.53 favourites for the Championship.
Next up for the 76ers is the Miami Heat on Thursday before a run of three home outings at the Wells Fargo Center.
Brown admits the defeat to the Warriors showed his franchise exactly what they are missing in comparison to the top teams.
The 56-year-old has now bemoaned his team's ability to take their chances, conceding that their lack of top ranking shooters is harming them.
"These guys (the Warriors) have something (in) that they can score in bunches and they do it with multiple people," he said.
"Their pace is different because of the stuff going on behind it. We are blue-collar.
"We fight for everything we get. It's a whole different species. It's a whole different set of resumes.
You better come in with a host of shooters if you really want to go deep in the playoffs."
Leave a comment