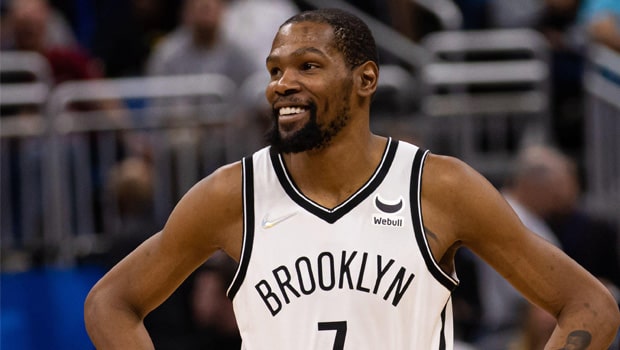 Brooklyn Nets veteran Kevin Durant believes his team's season was derailed after he suffered an MCL injury in mid-January. The talisman was injured during the match against New Orleans Pelicans, which Brooklyn Nets went on to win but it started a skid for them.
Durant was ruled out of action for 45 days and it had its brunt on the team. The Nets lost 11 games on the bounce and they had a 5-17 record without the services of their linchpin.
The team had a 27-15 record before Durant's injury but they veered off the track in his absence. The franchise had the services of Kyrie Irving but he could not play all the matches due to the New York vaccination mandate.
"To be honest, I feel like our season was derailed by my injury," Durant said after Monday's practice. "So I'm not looking at it like we're just not a good basketball team. It's like there wasn't a lot of continuity with me and Kyrie [Irving] out of the lineup, that's just what it is. When we're all on the floor together, I like what we got."
Brooklyn Nets head coach Steve Nash is confident that they can turn the corner in the upcoming matches.
"I mean, who knows if we do it or we don't, but we have the belief and we'll give it a shot," Nash said. "I don't know that many teams, other than maybe ours last year, have been in this position before where we've played a handful or more of games together going into a playoff, but it's not like there's a blueprint. But we can't diminish our belief, our attitude; we fight every day to get a little bit better."
"If we get negative or think this is too much or the world's stacked against us, this is not going to be productive. And I think all of us are kind of enjoying the challenge."
On the other hand, Brooklyn Nets who currently have a 40-38 record are placed in 10th position in the Eastern Conference standings. Durant feels it is imperative to focus their energy on the upcoming games and not pay any heed to the standings.
"Who cares?" Durant said when asked whether he has looked at the standings. "Whoever we play, we play. I don't care who we play. I don't care that we're in the play-in. Just tip the ball up, and see what happens. That's all you can control. It's too stressful thinking about we're trying to dodge a team, lining up, just play the game. We'll see what happens."
Brooklyn Nets have lost their last two matches and they will face Houston Rockets on Tuesday.
Leave a comment