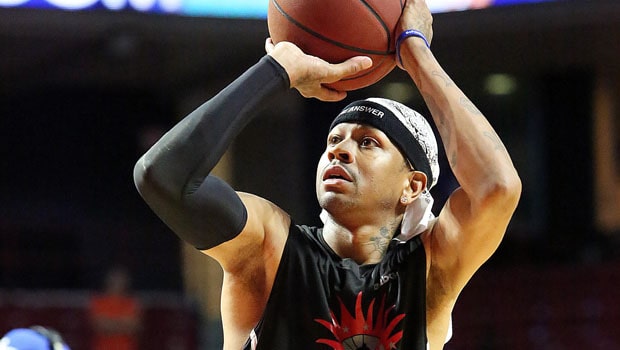 According to recent stat from Crazy Stats, 76ers legend Allen Iverson is the only player who outscored MJ during his prime.
"During his tenure with the Bulls, Michael Jordan faced 983 opponents. He outscored 982 of them. The only player who outscored him is Allen Iverson (Iverson – 27.1, Jordan – 24.0)."
Since then, MJ acknowledged Iverson's abilities and during a guest appearance on one of the basketball summer camps back in 1998, Jordan lauded the young Iverson for living up the hype in front of thousands of people in attendance. The six-time NBA champion also envisioned how 'The Answer' could beat him in a 1-on-1 game. 
"I'm never the type of guy that says; I can't get shown up. I just try to limit these opportunities. So, I'm not going to try to make it 1-on-1 between Allen Iverson and myself. You never know, if we play 1-on-1 again, I think he could beat me on the perimeter, but I could take him on the post," Jordan said.
Kobe Bryant also had an epic professional rivalry and obsession with Allen Iverson. In an article published by The Players' Tribune on April 18, 2017, Kobe wrote the following:
"On November 12, 1996, Allen Iverson dropped 35 on the Knicks in a win at the Garden. 
On November 12, 1996, I played five minutes and finished with two points in a Lakers win at Houston. 
On March 19, 1999, Iverson put 41 points and 10 assists on me in Philadelphia."
Allen Iverson and Kobe Bryant had many battles over the years but the ones in 1999 were unforgettable. The Lakers were led by Shaq and Kobe at the time but "AI" dropped 41 points and 10 assists to help the 76ers win 105-90 on March 19, 1999.
This made Kobe want to find ways to defend 'The Answer' better. Bryant knew that regular tactics were not going to be enough. He realized that he had to find an edge over Iverson somehow.
In the article referenced above, Bryant wrote that he studied how white sharks hunted seals to help him understand how to defend Iverson.
"Working harder wasn't enough," Kobe Bryant wrote. "I had to study this man maniacally. I obsessively read every article and book I could find about AI. I obsessively watched every game he had played, going back to the IUPU All-American Game. I obsessively studied his every success, and his every struggle. I obsessively searched for any weakness I could find," he added.
"This led me to study how great white sharks hunt seals off the coast of South Africa," Kobe concluded.
Bryant's then-head coach, Phil Jackson, assigned him to guard Iverson on February, 20, 2000 and Kobe held Iverson to 16 points, all in the first half. The Lakers won that game 87-84.
Kobe Bryant considered this "sweet revenge," though he later wrote: "But I wasn't satisfied after the win. I was annoyed that he had made me feel that way in the first place. I swore, from that point on, to approach every matchup as a matter of life and death. No one was going to have that kind of control over my focus ever again."
Leave a comment