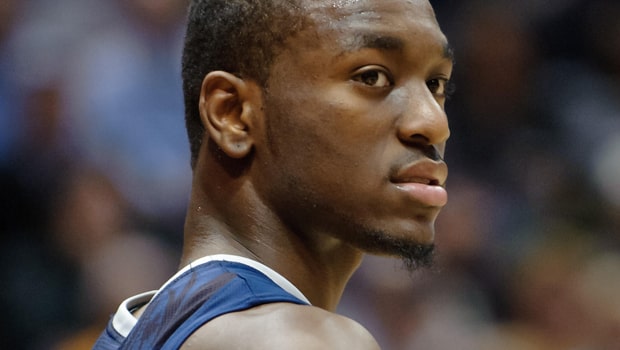 Kemba Walker went from being the starting point guard for the New York Knicks to the very end of the bench… overnight. He has had a wonderful career, and he is from New York City, so the entire city was excited to have the hometown kid come back and lead their franchise.
Walker was playing a career-low in minutes though, taking a career-low in shots and sharing minutes + usage with other guards as a good teammate and got punished for it. It was a crime that he was glued to the Knicks' bench. His head coach not only took him out of the starting lineup, but took him completely out of the rotation. That meant, he went from starting to not playing at all!
But through all of that adversity, he never pouted and he never quit. He kept a positive attitude, he kept working hard, and when his time came, he was ready.
The offensive potential a guard like him brings with a green light FAR outweighs any "defensive" issues.
Kemba is now back in the starting lineup and playing good basketball and he just became the first New York Knick to post a triple-double on Christmas Day.
Kemba Walker in four games since returning:
Sat 12/25 vs. Hawks: 10 PTS – 10 REB – 12 AST
Thu 12/23 vs. Wizards: 44 PTS – 9 REB – 8 AST
Tue 12/21 vs. Pistons: 21 PTS – 8 REB – 5 AST
Sat 12/18 vs. Celtics: 29 PTS – 6 REB – 3 AST
I will break down the Kemba Walker eye test:
Still one of the quicker and shiftier guards in the game, he has an elite handle and finishing ability, makes plays and when his shot gets going he will put up 25 guaranteed.
Kemba Walker was always supposed to be the Knicks' go-to guy on the perimeter. One may argue the Celtics' too. That shot creation under pressure is what this league was built on. Kemba has a lot of basketball left in him. I'm glad he tapped into who he is, he is still quick, a master at creating separation, still a playmaker, still a guy that can get to the cup and break down a defense.
Some people find problems, while others find solutions.
This is what Kemba said when asked about his return after the December 18 game against the Celtics:
"God just works in mysterious ways, man. He's blessed me, he's helped me stay humble, grounded, and he just got me through a tough situation. I just continued to work, and time goes on and guys go down, and I'm back. First game against my old team, I'm back in the starting lineup, and the rest is history from there. Everything happens for a reason."
Leave a comment