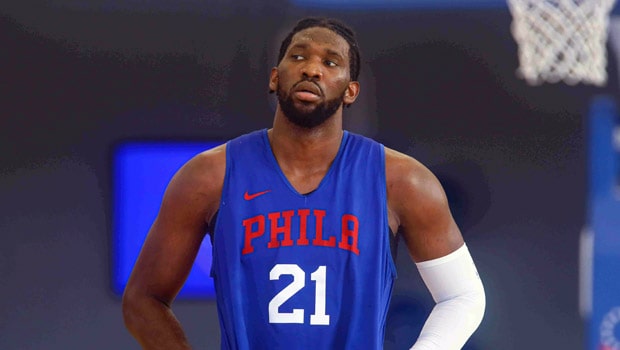 A lot of people have put their money on the Philadelphia 76ers in their playoff matchup against Washington Wizards. Right so, as Philly has been exceptional under the coaching of the experienced Doc Rivers and they have been led by the very able Joel Embiid.
He is someone who is also in with an MVP shout and hence one can understand the level he has been playing this season. A lot of people expected the 76ers to sweep the Wizards mostly because of the form of both sides. The Sixers were in sublime form in the regular season and hence they finished at the top of the Eastern Conference whereas the Wizards somehow managed to squeeze into the playing and then finally got to the playoffs.
Hence when the Wizards defeated the Sixers in Game 4 a lot of people were shocked. While Embiid and company still hold a strong  3-1 lead in the series, there is a slight opening for Scott Brooks' and his men. Firstly the 122-114 win will give confidence to the Wizards and secondly Joel Embiid's injury can leave a huge void for Philly.
The Sixers lost the game but the worse part of the match was losing Embiid so early in the game. The center took a heavy fall in the first quarter which saw him leave the court. He was seen on the bench for the remainder of the match. While a back injury was speculated later it was known to be knee soreness.
The injury has now made Embiid doubtful for the all important Game 5 in this series. Coming with winning momentum and confidence the Wizards will feel that they definitely have a foot in the door. On the other hand, Doc Rivers needs players like Ben Simmons and Tobias Harris to step up in this crucial encounter.
Amid all the doubts over Joel Embiid's fitness NBA insider Brian Windhorst comes up with more details on the matter as he is covering the series. He revealed, "I was on with the players and coaches last night and I can tell you that there was a level of concern about Embiid." Brian agreed that this team has played without Embiid before but also stated, "But if he's not back where he needs to be, they're not winning the Eastern Conference."
Windhorst still feels that it is a minor concern for Embiid and he will be back for the next game. He feels that with Embiid in full flow the 76ers can easily gear up for the Eastern Conference finals.
Leave a comment