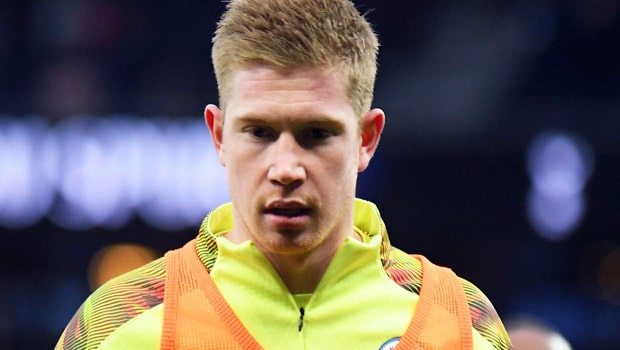 Whether talismanic midfielder Kevin De Bruyne will be able to participate in the upcoming European Championship is still a matter that is unclear to Belgium head coach Robert Martinez. Playing for Manchester City in the final of the UEFA Champions League, De Bruyne suffered a facial fracture after a horrific collision with Chelsea's Antonio Rudiger.
He ended up breaking his nose and eye socket in that clash. As things stand, Kevin De Bruyne is racing against time in order to be fit for Euro 2020. It's a matter that is developing continually and manager Roberto Martinez told reporters that they will only have more clarity on his progress next week.
"I would say that until next week we won't know exactly where we are with Kevin. Now, allow him now to relax.
"He could be available for the Euros but when, we don't know at the moment. It's too early to give you an answer now, we must first get the green light from the medical side," said Martinez.
Ahead of the Champions League final, De Bruyne had been included in Belgium's final squad for Euro 2020 and was expected to join the group just a few days ahead of their opening group stage fixture against Russia in St Petersburg on June 13. De Bruyne has had a long season with Manchester City and was also out injured for a long period.
"He's still recovering after a very difficult season in terms of the amount of games at club level. But every day is important and we are in contact with him daily," Martinez said of his star performer.
Roberto Martinez will also be worried about star performer Eden Hazard. Hazard's move to Real Madrid has been a complete failure and the Belgian captain has dealt with several strings of injuries throughout the season. His long-standing injury woes make him a serious doubt for the European Championship as well.
Martinez said that it's unlikely that Hazard will feature in the warm-up friendly against Greece. "Greece will be a fantastic game for us in terms of being a competitive clash. They will test us on how we can play our high-pressure game. They are also a very good defensive side so we want to assess partnerships up front," added Martinez.
"You never really kick on in your preparations until you get into a match scenario. Pity we don't have fans behind us but we'll try to use the game as well as we can."
Leave a comment