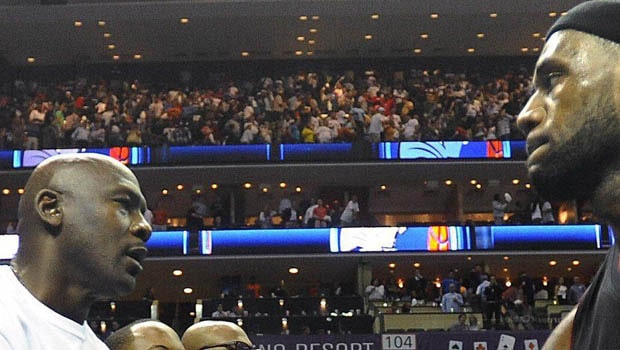 Michael Jordan vs LeBron James – who is the GOAT between them? This has been a hot topic of discussion among the NBA boffins. Jordan was a game-changer during his heydays and he single-handedly took Chicago Bulls to some amazing wins in his career. The talisman was known to give 120% on the court and annihilated the opposition with his incredible skills. There is no doubt that James revolutionized the sport with his game and took it to another level.
On the other hand, LeBron James is one of the best players of the current generation along with Kevin Durant and Stephen Curry. James is still going strong in his 19th NBA season and he has bagged a plethora of records.
However, a lot of NBA analysts feel Michael Jordan is well ahead of LeBron James in the GOAT debate. Jordan won six NBA championships with Chicago Bulls whereas James has thus far won four NBA rings in his glorious career.
NBA analyst Chris Broussard reckons King James will need to do something astronomical in order to surpass Michael Jordan in people's view.
Broussard said Fox Sports show First Things First, "There was a time when I thought LeBron would be viewed as the GOAT. I felt that when the millennials and the gen zers began dominating the discussion and when they were on TV shows like this and radio shows and they dominated the discussion, they would say that LeBron is the GOAT and it would become accepted wisdom just like today it is accepted wisdom that Jordan is the GOAT."
"He [Michael Jordan] has reached that status in our society where its going to take more than [what] even the great LeBron James did for someone to come along and people to say 'he was better than Jordan'. Whether you look at the shoes, the 6-0, the iconic shot against Utah, whatever you wanna look at, Michael Jordan has reached that level, where its like you got to do something astronomical to surpass Michael Jordan in people's view."
James has been in terrific form in the ongoing season as he has been averaging more than 29 but LA Lakers have struggled to get going. The Lakers will next face LA Clippers on Friday.
Leave a comment