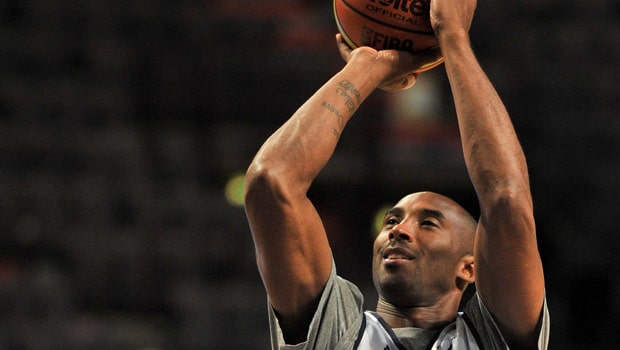 Kobe Bryant is one of the greatest NBA players of all-time. Some believe that he is the greatest Laker ever. Two jersey numbers in the rafters at the STAPLES Center prove this.
Kobe took over games in ways that not many players could. His mentality on and off the court is one of the main reasons why he is one of the very best to ever do it.
Eduardo Solano, from FOX Sports Radio 1340 AM Hopewell and AccuScore, wrote this about Kobe Bryant recently:
"Kobe's grueling cardio workouts gave him an edge throughout his career. He could run all day long. Bryant knew that if someone wants to be a great basketball player, they have to be in great shape."
In his book, The Mamba Mentality: How I Play, Kobe detailed why he had to change his shooting form in the 2009-10 season. After injuring his finger on December 11, 2009, Kobe Bryant knew that his usual method would no longer work.
"Up until then, I'd always shot off of my first two fingers. After I hurt it, I had to start focusing on using my middle finger. The middle became my point of release, and I had to sort of let my index finger drift," Kobe explained.
Bryant then added that making the change took him a couple of practices: "Not average practices, though. Days flooded with mental and physical work. I had to mentally download the software that was the new form, and then drill it in. I definitely got my one thousand makes in on each of these days."
The five-time NBA champion was asked often if the change impacted his shot, if it made him a better or worse shooter. He had no answer to this, though he did explain that there were times when his index finger just went numb, when it had no feeling in it at all. "I can also say that was still good enough to win another championship—and that's the only thing that matters," Kobe concluded.
Leave a comment