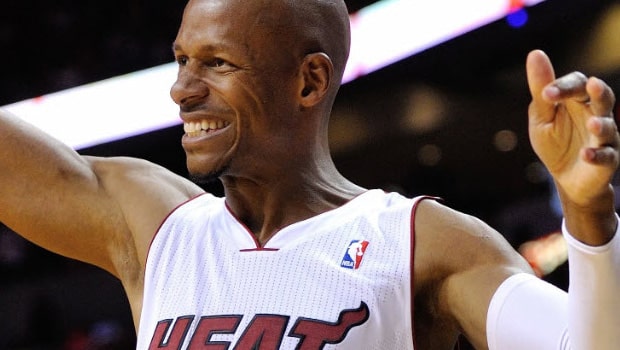 Two-time NBA champion Ray Allen played 18 years in the NBA with the Bucks, SuperSonics, Celtics and Heat, averaging 18.9 points, 4.1 rebounds and 3.4 assists in 35.6 minutes over 1,300 games. Allen shot 45.2 percent from the field and 40.0 percent from 3-point range in his career.
In his book, From the Outside: My Journey Through Life and the Game I Love, Allen opened up about his game-tying 3-point shot in Game 6 of the 2013 NBA Finals against the Spurs.
With the Heat trailing 95-92, Allen made a 3-pointer with 5.2 seconds remaining in regulation to send the game into overtime. It was possibly the biggest shot in franchise history because the Heat would have lost the series had he missed the shot. The Heat won Game 6 in overtime before taking care of business in Game 7 to win their second consecutive NBA Championship.
"We had one clear advantage during those waning seconds. We had Chris Bosh. At six-foot-eleven, CB, as we called him, was the tallest player on the floor. That's because Tim Duncan, the face of the San Antonio franchise, was on the beach. Popovich had replaced him with another big, Boris Diaw, for quickness to chase us on the perimeter in a pick-and-roll, a smart move by a smart coach. 
Lo and behold, when LeBron missed a three, CB grabbed a rebound Duncan might have gotten. Nine seconds to go. Of course, we still needed the three ball. Desperately. From someone. Anyone. I wanted that someone to be me. As a kid, I played out these exact types of late-game scenarios over and over in my head when I was on the court, alone with the ball, and in my dreams," Allen explained. "The second I saw the ball in CB's hand, there was only one place for me to go: behind the three-point line."
Leave a comment