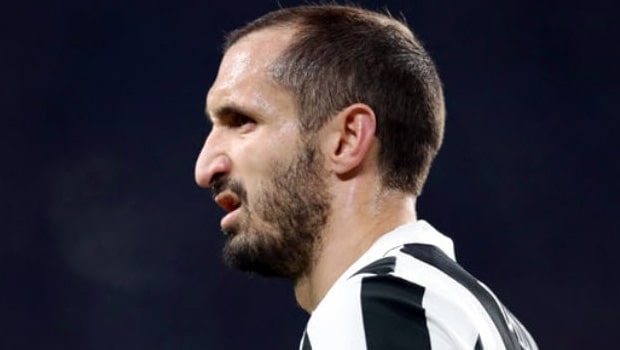 Juventus captain Giorgio Chiellini is now back to training with the team after being out injured.
The skipper is returning to training a few hours after the Bianconeri suffered a 2-0 defeat against Barcelona.
Ousmane Dembele and Lionel Messi scored the goals that secured the maximum points for the Catalans at the Allianz Stadium.
Taking the game behind them, Andrea Pirlo's men immediately went back to work at Continassa on Thursday morning in preparation for a domestic clash with promoted Spezia.
At the training ground, those involved in the Barca clash went through a light session while the team deals with strength, ball possession, and a match to end the session.
The skipper's return is a welcome development to the Turin giant ahead of their visit to Spezia.
It is hoped that Juve will be lucky this time around after Alvaro Morata's goals were ruled out for offsides. The Spaniard was unlucky as he was caught marginally offside in one of the decisions confirmed by the Video Assistant Referee.
It is no longer news that their star player, Cristiano Ronaldo, struggles to recover from COVID-19 after testing positive for the dreaded virus while on international duty with Portugal earlier in the month.
The five-time world footballer of the year recently had another positive test from the latest result, which ruled him out of the Barca clash.
Ronaldo looked fit as he continues to train while in isolation. The forward recorded a video a few hours to the kick-off against Barca to show his support.
It is expected that Juventus will conduct another round of COVID-19 tests before the Spezia game, and Ronaldo will be hoping to produce a negative test.
The striker, who has a high recovery rate, will be looking forward to beating the virus and be ready to return to action against Spezia this weekend.
He has two more days at least to get lucky.
Leave a comment