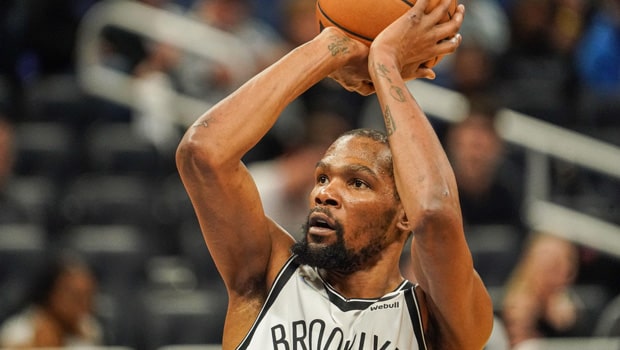 Brooklyn Nets star forward Kevin Durant admitted that he was thinking too much after his team skidded to a 3-0 series hole against the Boston Celtics in the first round of the playoffs. The Nets lost by 109-103 against the Celtics as they couldn't come up with their best against the opposition.
Durant struggled to get going as he scored 16 points on 6-of-11 shooting. In fact, Durant is managing 36.5% (19-for-52) in the first three matches of the series against the Celtics, which is adding to the team's woes. The veteran hasn't been able to find his A-game which is not helping his team in the playoffs.
"I was just thinking too much to be honest, this whole series," Durant said. "Like how I approach the game. We got another game to play, another opportunity, and I'm looking forward to that."
In fact, Durant was averaging above 30 during March and April in the regular season but he hasn't been able to continue his form. The 33-year-old admitted he was trying to play too aggressively in the first two matches.
"I feel like the first two games I was trying to be too aggressive," Durant said. "A team that's loading up on me, that's trying to take me out of all my actions. I felt like I was still trying to force the first two games and watching film, a lot of my teammates were open and they were knocking down shots, so I felt my approach to this game was to play off of everybody — get in the flow of the offense and let the ball move and find me."
Durant feels he puts himself under the pump by overthinking what he can do to get the best out of himself as well as the team rather than playing his natural game.
"Every team I've been on, you're just trying to figure out the best way to play," Durant said. "When you got good teammates around you as well, you're trying to figure out, I try to figure out how I can be the best version of myself and also not getting in my teammates' way. Sometimes I think too much about it. Sometimes I need to go out there and just [have] no thoughts in my head and just play.
"I feel like I prepared myself the right way. It's a matter of the small decisions in the game that may not go in my favor. I thought I found my teammates better than I did the last two games. I just need to score more."
The fourth game of the series, which will be a do-or-die match for the Brooklyn Nets, will take place on Monday night.
Leave a comment