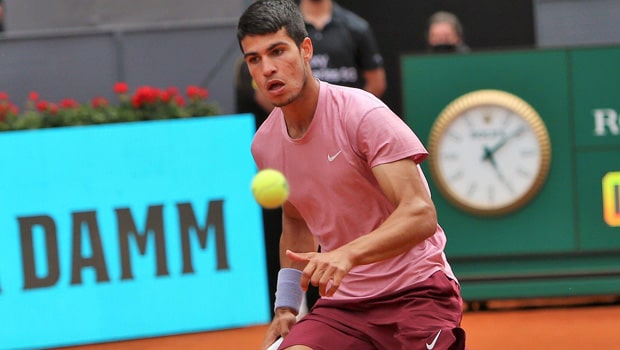 Spain's young Tennis sensation Carlos Alcaraz defeated Australia's Alex de Minaur in the semifinal by 6-7(4), 7-6(4), 6-4 to enter Barcelona Open final. The 18-year-old saved two Match Points in the second set to stay afloat in the game and hit an amazing forehand pass to leave everyone stunned.
The Spaniard admitted that he was lucky to save those two Match Points as he brought his best game when it mattered the most. The youngster kept on fighting and he was able to grab his opportunities at the right time in a thrilling encounter.
"I was lucky," said Alcaraz after the match. "I did that passing shot, I don't know how I did it, it was pretty close, but I was fighting until the last ball. I had my chances. I did it at the end of the second set, breaking his serve twice. It was an unbelievable match, very close, but I was fighting."
In fact, Alcaraz had to battle hard for three hours and 39 minutes as the Australian gave him a run for his money. However, the Spaniard kept his nerves in the crucial stages of the game and came out on top.
Alacaraz will now face campatriot Pablo Carreno Busta later on Sunday at the Real Club de Tenis Barcelona-1899.
"It's tough to play a final this afternoon after this match, after this whole week, but it's a final," said Alcaraz of his clash with Carreno Busta later on Sunday. "You have to give 100 per cent, you have to fight until the last ball. It's no time to be tired now, so you have to fight like the first day."
On the other hand, Pablo Carreno Busta, who won the Bronze medal in Tokyo Olympics, feels it is special to be in the final.
"Of course, it's very special," said Carreno Busta after the match. "Barcelona is my home. It's very, very special to be in the final here. I lost two times in the semi-finals so finally I can play in the final. I know I have to be at 100 percent again, and I will try to enjoy it because it is not normal to be in this situation.
"After yesterday with 12 hours at the club and we could only play four games, I think it was positive for me to have one more day to rest. Today I feel very good, I feel comfortable, playing with the crowd, it's very important to be at home."
Leave a comment