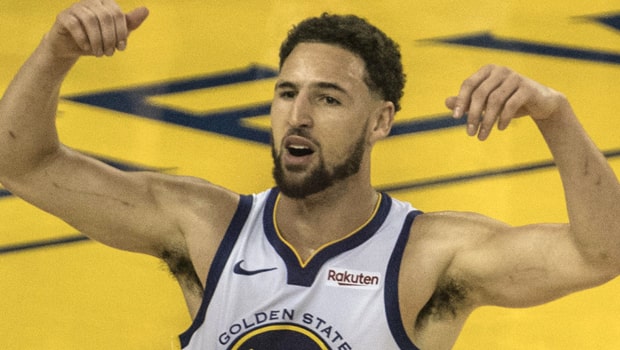 The world of basketball welcomed back Golden State Warriors guard Klay Thompson Sunday night as the sharp-shooter returned from a 941-day absence following ACL and achilles injuries. He returned to the starting lineup after being out for the last two seasons, finishing with 17 points and 3 rebounds in 20 minutes of action as the Warriors defeated the Cleveland Cavaliers, 96-82.
"I will never forget the reception that Warriors fans gave us, especially myself," Thompson said after the special win. "Gosh it was fun and it was worth every single day of being away and in that squat rack or on that shuttle board and all the conditioning days. It was worth every single moment. I am not going to say equivalent to winning a championship. But man, it was pretty freaking close."
Thompson — after his first two three-point baskets on Sunday — passed 12,000 points and 1,800 made 3-pointers for his career. His teammate, Stephen Curry, is the only player to reach the 1,800 three-point mark quicker.
This was Thompson's first game since Game 6 of the 2019 NBA Finals.
He still, however, managed to get up 18 shots in 20 minutes in his first game back.
"That is so Klay Thompson," Curry said.
Potentially the most exciting moment of Thompson's return came in the second quarter when he attacked the basket for a one-handed dunk on both Dylan Windler and Lauri Markkanen. Quite the moment for someone returning from a torn ACL and a ruptured achilles.
"I'm going to remember that dunk," Golden State's Kevon Looney said. "The whole time here when Klay had perfect knees and Achilles, I don't remember him dunking like that."
"It was vicious," Curry added.
Thompson finished the night 7-18 from the field.
"I'm just so happy right now," Thompson said. "I did not shoot as well as I wanted to, but I am just so happy that I can even look at the stat sheet and see my name there and all the stats again."
The Warriors became just the second NBA team to 30 wins so far on the season (Phoenix Suns).
They're back in action later this week against the Memphis Grizzles, Milwaukee Bucks and Chicago Bulls.
Leave a comment