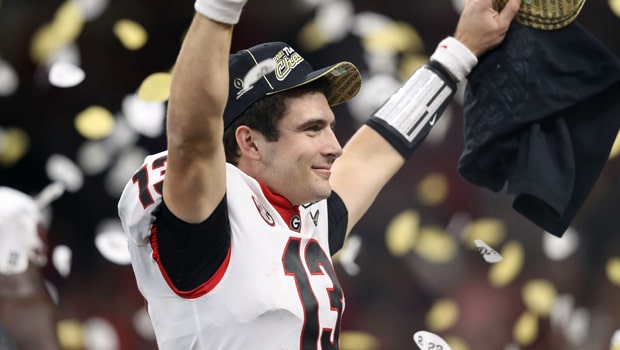 The Georgia Bulldogs ended a 41-year title drought Monday night as quarterback Stetson Bennett led the way to take down rival Alabama 33-18 in the College Football Playoff title game. Georgia won its first national title since Herschel Walker led the Bulldogs to a title back in 1980.
"I cried, so pretty good," Bennett said when asked what it felt like to win on such a big stage.
Bennett, a one-time walk-on who became a starter, finished the game with 224 passing yards and zero INTs.
Monday night marked the first National Championship game to feature five combined field goals in a half.
Alabama head coach Nick Saban has now lost twice against a former assistant coach of his; he entered the 2021-2022 season with a 23-0 record against his former assistant coaches. He has since lost to Jimbo Fisher and now, Kirby Smart.
"We played a heck of a game against a heck of a team for the first three quarters of the game," Saban said. "Nobody can take the SEC championship away from this team, the Cotton Bowl championship. We just didn't finish the way we needed to finish."
Kelee Ringo sealed the game with a pick-six as the clocked turned to just under a minute in the fourth quarter. The score was 26-18 with Alabama driving before that interception.
"It still hasn't hit me yet," Ringo said after the win. "I'm like, 'man, I just gotta get it home and try to score for my team.' It's an honor to be a Bulldog, man."
Georgia became just the second team to win 13 games by at least 15 points in a season, joining the 2018-2019 Clemson team.
"There were people that said we weren't conditioned enough, and it pissed a lot of people off on our sideline — and they went to work," Smart said after the title win. "Before we came today, we burned the boats, and we came a fighting."
Smart became just the fourth head coach in the past 60 seasons to win a national championship at his alma mater, joining Bear Bryant (Alabama), Steve Spurrier (Florida) and Phillip Fulmer (Tennessee).
"You guys kicked our ass in the 4th quarter," Saban said to Smart as they shook hands following the final whistle.
Not only was this Georgia's first national title since 1980, but it was also the Bulldogs' first win over Alabama since 2007. Quite the finish to the college football season.
Leave a comment