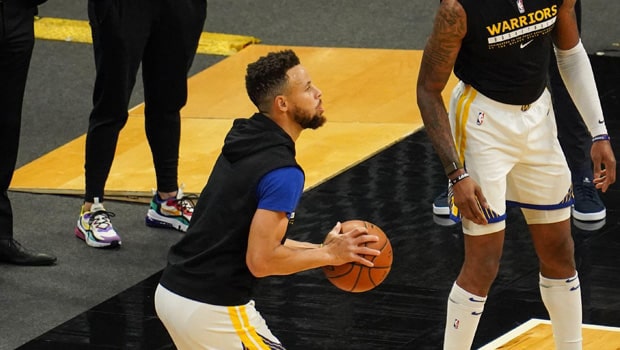 Being 2-1 down in the NBA Finals, Golden State Warriors talisman Steph Curry knows the significance of Game 4 against the Boston Celtics. The 33-year-old veteran has confirmed he will play in the all-important fixture despite injury trouble.
During Game 3 of the series, with 4:16 left on the clock, Curry wrestled with Celtics' Al Horford for a loose ball. Both of them struggled to get hold of the ball and Horford rolled over Curry's leg-leg, leaving the talisman writhing in pain on the floor.
Curry is the fulcrum for the Dubs and he wouldn't want to miss the fourth game of the series for anything.
"[I got] about 10½ hours of sleep, a couple dunks in the ice bucket and that's about it for now," Curry said in the press conference. "Then take advantage of today and tomorrow to get completely ready for the game. Get as much recovery and healing as possible and understand how important Game 4 is. I'm excited about the opportunity."
Meanwhile, Curry had earlier suffered a foot sprain injury while playing against Boston Celtics in March when he fought with Marcus Smart for a loose ball. Curry compared his current injury with the one he suffered in March and added the current one is one that serious. Ergo, he should be good to go in Game 4 of the NBA Finals.
"Because I went through what I went through in the regular season and coming back, I know exactly what it is and what I've got to deal with and the soreness, pain level and all that," Curry said. "So once I got checked out last night, I knew I wouldn't have to go get any extra tests just because we've been through this before."
"As soon as you started to take a couple of steps, you kind of know whether you can run normal, cut normal or not," Curry said.
"I'm going to play," he said definitely. "That's all I know right now."
Curry's fitness is definitely a positive for Golden State Warriors and the talisman will look to help his team level the series.
The fourth game will be played on Friday night.
Leave a comment