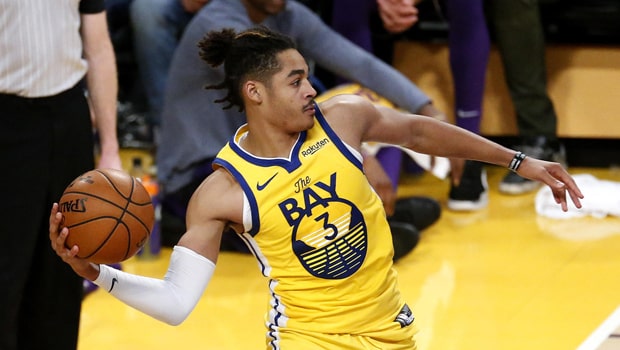 Golden State Warriors took on San Antonio Spurs without their key players like Stephen Curry, Klay Thompson, Andrew Wiggins, and Draymond Green. However, still, they went on to win by 124-120 on Tuesday night to continue their rich form as this was their seventh win on the bounce.
Curry had missed the game due to left toe soreness but it was not going to stop him from making an impact in the game. No, he didn't play but his valuable inputs from the side helped his team secure the win.
Jordan Poole was the top scorer for Golden State Warriors as he scored 31 points and gave credit to Steph. Poole added that it was huge to have Steph on his side as the veteran shooter was able to get the best out of his team even from the sidelines.
Poole said: "It was huge being able to have Steph on the side, talking to me the entire time. We knew it would be a tough game. I just had to continue being aggressive night in and night out."
"Coming from the top of the food chain all the way down, everybody is excited for each other, wants to see everybody succeed. Steph was just talking to me the entire game, giving out any piece of advice, personally, as a team, not only to me but other guys as well. Klay [Thompson] was excited. The group chat was blowing up a little bit. Everybody is in the group chat. It's just amazing to have the camaraderie and chemistry that we have, but it's not only due to basketball. It's due to off-the-court relationships and the character that we have throughout the locker room."
Apart from scoring 31 points, Poole scored six rebounds and five assists for his team. Meanwhile, Steph Curry was delighted after Poole scored a three-pointer in the dying seconds of the game.
With this win, GSW now has a 39-13 record in the league and they are currently in second place in the Western Conference standings. GSW will next face Sacramento Kings on Thursday.
Leave a comment