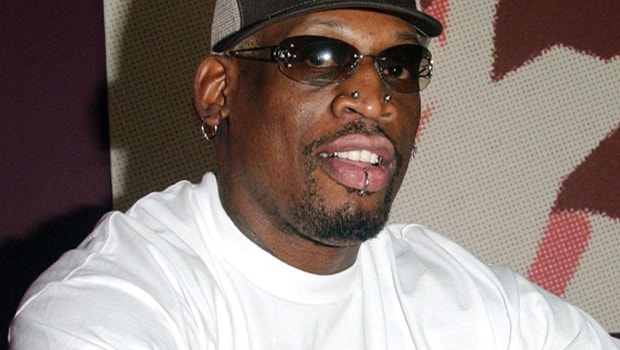 The Los Angeles Lakers have had legendary players like Kobe Bryant, Magic Johnson, Kareem Abdul-Jabbar, Wilt Chamberlain, Shaquille O'Neal and Jerry West represent them over the years, defining entire eras in NBA history.
Other great players were also in the Lakers at some point in their NBA careers but you might have forgotten about it. For example, Dennis Rodman.
Rodman is one of the greatest rebounders and defensive players in NBA history but his best years were with the Detroit Pistons and Chicago Bulls.
A five-time NBA champion, Rodman was a key part of the Bad Boys Pistons that won two NBA Championships and years later he joined Michael Jordan and Scottie Pippen to form perhaps the most formidable Big Three in NBA history, winning three NBA Championships in three years with the Bulls.
The controversial forward is remembered for his time with those two teams but he also played with Kobe Bryant and Shaquille O'Neal with the Lakers during the 1998-99 season.
Dennis Rodman tried to help another team reach the promised land but he played just 23 games for them, despite averaging 11.2 rebounds in 28.6 minutes at 37 years old. According to then-Lakers head coach Kurt Rambis, the team decided to let him go because he kept arriving late to practice.
"I think it was justified," Kobe Bryant in the wake of Dennis Rodman's release by the Lakers. "When a guy shows up continuously late… Yeah, it was definitely justified."
Per Rambis, Rodman arrived late for a Lakers practice at Los Angeles Southwest College and then was slow getting ready because he couldn't find his socks and shoes.
This was the straw that broke the camel's back. Rambis lost his patience and sent him home. He later had a pointed conversation with Lakers executives Jerry West and Mitch Kupchak and Rodman was released on April 16, 1999.
"This is a time where we need an ultimate focus and concentration," Rambis said back then. "I just think this is better for the team."
Rambis also added that he was disappointed about releasing Rodman because he did show what he was capable of doing when he was motivated.
A few years ago Rodman shared a story from his time with the Lakers. The seven-time NBA rebounding champion appeared on CBS Sports' "Reiter Than You" with Bill Reiter and said that he was fed up with Kobe Bryant and Shaquille O'Neal's bickering.
"So I start playing, right, we won 10 games in a row," Rodman explained. "Ten games in a row when I got there, right? I said, 'Jerry, I gotta take a break.' One reason: Shaq and Kobe.
I couldn't deal with those [expletives]. I'm not going to lie to you: I couldn't deal with them. I'm like, 'Oh my God, I'm not used to this,' right? I'm used to winning, but I can't deal with these [expletives expletive-ing] every [expletive] game. Like, [expletive]. I mean, every, I'm like, [expletive], we're winning, what? So I go and I say… 'I'm so used to having calm and serenity and stuff like that.'"
Leave a comment