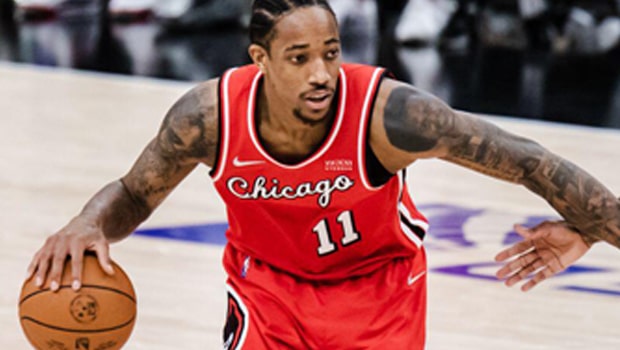 DeMar DeRozan is the first player in NBA history to hit a game-winning buzzer-beater in back-to-back days!  And they happened in two different years and both were 3-pointers. DeMar in his last eight games:
29.3 points per game
5.6 assists per game
4.3 rebounds per game
51.5 percent shooting from the field
62.5 percent shooting from 3-point range
85.1 percent shooting from the free-throw line
The Bulls went 8-0
DeRozan is having his best season ever and a lot of it has to do with the game tightening up now. The analytics and loose play had pushed it all out these last few years, but now when the defender can get in you a bit he thrives. His ability to get to his spot in the mid range, size you up and play back to the basket is elite stuff. On top of that he has a package of foot work, jabs, pump fakes and a handle that can carve up a defense. He keeps the defender honest and at his mercy all game. What's crazy now is he has other weapons around him in Chicago. The playoffs are going to be crazy.
A big reason DeMar DeRozan is back to being one of the best players in the world is the rule change. This is his game. Now that mid range is so key, his jabs and pivots and pump fakes are cracking pressure.
It's still early, but Zach LaVine and DeMar DeRozan are doing something we haven't seen being done before: two wing talents rarely work as well and naturally as they are right now.
LeBron James and Dwyane Wade had to adjust their games. Remember what people thought Paul George and Kawhi Leonard would be? LaVine and DeRozan are that. This is where fluidity, instincts, versatility and pure hooping is key. They are a threat from every spot on the floor and have that fire in their step. Both players take pride in cooking their opponents. It's beautiful stuff. You add this to what Chicago has around them (Lonzo Ball, Nikola Vucevic, Alex Caruso, Ayo Dosunmu and Billy Donovan's coaching) and this team is a legitimate threat to win it all.
"If you want to be the best, you have to beat the best," DeRozan said after the Bulls beat the Nets 111-107 on the road on December 4. "We're just going to keep coming," DeRozan added. "We're learning not to get down on ourselves if we're missing shots. We're learning a very critical part of the game is to stay level-headed and to stay balanced. There's a lot of time in the game for things to turn over. Stay the course. That's what we do."
"The greatness that DeMar displays each and every night in those crunch-time situations, to be able to witness what he's doing on such a high level, making tough shot after tough shot while also being a leader just shows the type of person he is," Ayo Dosunmu said.
That Spurs system didn't let DeRozan rock out like this. Then analytics casuals started reading graphics and coming up with narratives to write him off. Why was DeMar not an All-Star for three years?
Leave a comment