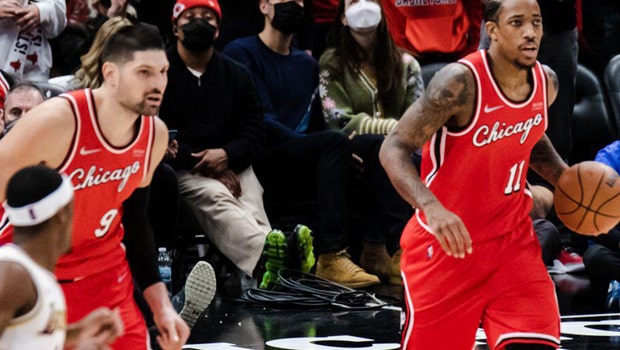 DeMar DeRozan is cut from the same cloth as his childhood hero Kobe Bryant.
The same obsession Kobe had with Michael Jordan by asking his mentor different ways he could improve, DeMar had a similar relationship with Kobe Bryant since he was in high school.
Not only does DeMar's playing style reflect his obsession with Kobe, but he's been able to adapt the Mamba Mentality Kobe always talked about. Despite winning eight games in a row and not losing a game since November 27, he was 7-for-13 from the free-throw line in the 102-98 home win against the Magic on January 3 and stayed back to shoot over 250 more free-throws after the game while the United Center workers were breaking down the court to switch over to hockey. These are MVP habits.
DeRozan recently became the first player in NBA history to hit a game-winning buzzer-beater in back-to-back days!  And they happened in two different years and both were 3-pointers. DeMar DeRozan is having his best season ever and a lot of it has to do with the game tightening up now.
"Everything I learned came from Kobe. Everything. Take Kobe away, I wouldn't be here. I wouldn't have love. I wouldn't have passion, the drive. Everything, everything, came from him."
"If you want to be the best, you have to beat the best," DeRozan said after the Bulls beat the Nets 111-107 on the road on December 4. "We're just going to keep coming," DeRozan added. "We're learning not to get down on ourselves if we're missing shots. We're learning a very critical part of the game is to stay level-headed and to stay balanced. There's a lot of time in the game for things to turn over. Stay the course. That's what we do."
Kobe Bryant is one of the greatest NBA players of all-time and the greatest Laker ever. Two jersey numbers in the rafters at the STAPLES Center prove it. Kobe was able to take over games in ways that not many players could.
His drive to win at any cost helped him succeed on and off the court. An 18-time NBA All-Star, five-time NBA champion and one-time NBA MVP, he tragically passed away on January 26, 2020.
Kobe worked like he had no talent, then he played like he believed he was the best player in the world. Prepare with humility; perform with confidence, that's one of the many lessons he taught us.
Leave a comment