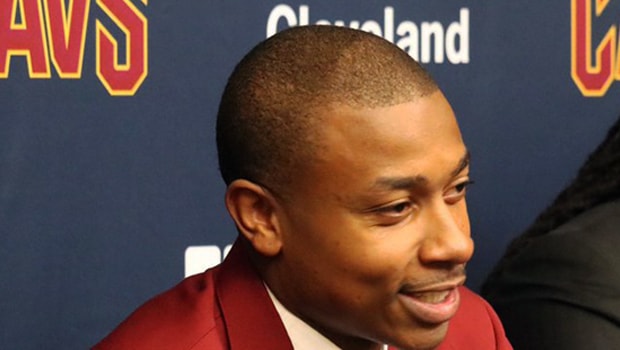 Isaiah Thomas feels Cleveland Cavaliers can achieve something special in the coming campaign after his off-season arrival from Boston Celtics.
Thomas joined last season's NBA Finals runners-up with Kyrie Irving heading in the opposite direction.
The All-Star guard admits it was tough to leave Boston, but he feels the Cavs have a strong enough squad to go one better and emerge as NBA Champions in 2017-18.
"You are not going to want to mess with the Cavs this year. This is going to be a great year to be a Cavs fan, a great year. And I'm excited," he said in a Players' Tribune post.
"From a basketball perspective, me on the Cavs is a match made in heaven.
If you've watched any Celtics games last year, then you know how many times I would have to go through double and even triple teams, just to get my shot off.
It ended up working fine for us – guys played great, and my shot was falling.
But this year … man, it's not even going to be a thing. You really going to throw three guys on me, when I'm sharing a court with the best basketball player on the planet? Nah, I don't think so.
"And that's just LeBron [James]. I look up and down this roster, and all I see is guys I can't wait to play with: Kevin Love (reunited with my old AAU teammate!), Tristan Thompson, JR Smith, Iman Shumpert … it's no accident to me that these guys have won the East three years running.
And now add me to the mix, and D. Rose [Derrick Rose], and my guy Jae [Crowder, who also arrived from Boston]? This roster, man – it's just stacked. Cavs fans, let's get ready to rock and roll."
Cleveland are 5.50 to win the NBA Championship next season and holders Golden State Warriors are 1.50.
Leave a comment