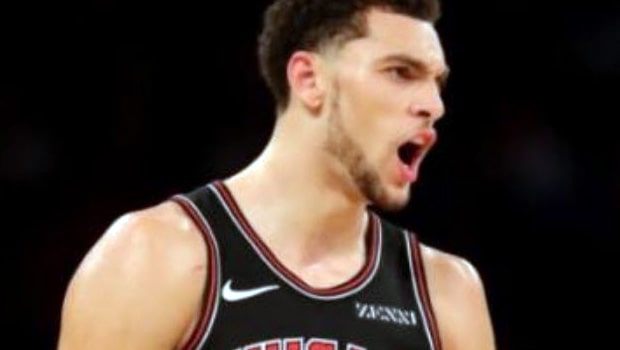 The Chicago Bulls are back in the spotlight, 22 after winning their sixth NBA Championship in eight years. ESPN's 'The Last Dance' documented their success, focusing on the 1997-98 season, Michael Jordan's final campaign with the Bulls and the end of their dynasty.
Bulls star guard Zach LaVine put up a legendary performance on the January 3 118-108 win against the Luka Doncic-less Mavericks, scoring 39 points with six rebounds and five assists.
LaVine scored 21 points in the first quarter, making nine of his first 10 shots. He also was 1-for-1 from 3-point range. The talented guard ended the first half with 29 points, just one shy from matching Michael Jordan's 30-points in the first two quarters against the Trail Blazers in a game in 1997.
"If you're mentioned with him, it means you're doing something right," LaVine said after the game. Over the years, LaVine has always expressed to Heavy.com's Brandon 'Scoop B' Robinson that MJ was his favorite basketball player and the reason why he plays basketball. "I'm a big, big Jordan fan," LaVine told Robinson after the win against Dallas. "One of the main reasons I started watching basketball as a kid, just like so many others. I think I knew the stats and the way he played and how he got it done."
This is what LaVine said about 'The Last Dance': "I think the thing I didn't realize is how much stress and how much pressure he had on him and how he handled it. 
It was cool to see him with the camera on him and see how he handled it and if he was in the hotel room with the cigar or if he was going golfing to decompress. And then he got his mind ready and he turned into an animal on the court. 
That was what I took away from it, all these outside distractions and how he handled it and he was still the best player on the planet at the end of the day every night."
Leave a comment