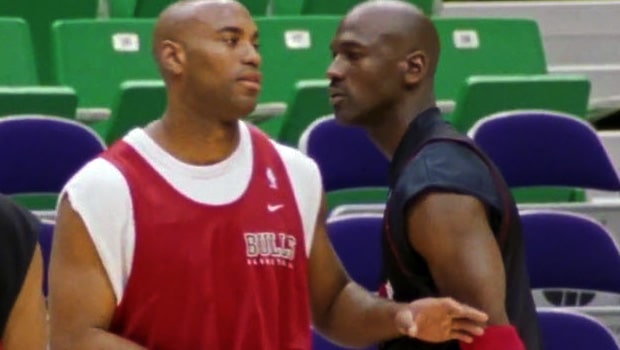 The Chicago Bulls have the spotlight again, 22 years after winning their sixth NBA Championship in eight seasons. ESPN's 'The Last Dance' documented their success, focusing on the 1997-98 season, Michael Jordan's final campaign with the Bulls and the end of their dynasty.
Jordan's drive to be the best helped him overcome many obstacles in his career but his tough love style of leadership has been questioned recently. MJ's verbal "riding" of Scott Burrell was highlighted by 'The Last Dance.'
Burrell played for the Bulls in 1997-98, appearing in 80 games and averaging 5.2 points over 13.7 minutes per game as a reserve forward.
He played in the league until 2001 and he is now the head coach of Southern Connecticut State. Burrell was a guest on The HoopsHype Podcast with Alex Kennedy in May and he discussed his experience with the Bulls.
This is what Burrell said when asked what it was like to be pushed really hard by Michael Jordan:
"It was like getting taught; getting taught in a tough way. I didn't think it was embarrassing, I didn't think it was humiliating. I don't have any regrets of how it went down or any second thoughts about learning from the best.
I mean, I was getting tutelage from the best player to ever play, from the best team ever put together! And it was a team that won five out of seven championships before I got there, and I didn't want to mess it up! So, I was glad to learn any way possible that was taught to me."
MJ explained that he was trying to toughen Burrell up and prepare him for grueling playoff series. Kennedy asked Burrell if it made him tougher and more prepared and he said:
"I think it prepared me for life, not just basketball. I had played with some very good teams in the past and with very good players, but it's totally different when you play for a great player and great coaches, and you're playing for the same goal – winning a championship.
It's totally different when that level is turned up another 100 degrees and you're in the midst of it."
Burrell also explained how he reacted when he found out that he was traded to the Bulls:
"I was just happy that they made me feel like I was a part of it. I was happy to do my part to help [the team] win, to make myself better and the team better. It was an honor to be part of it."
Leave a comment