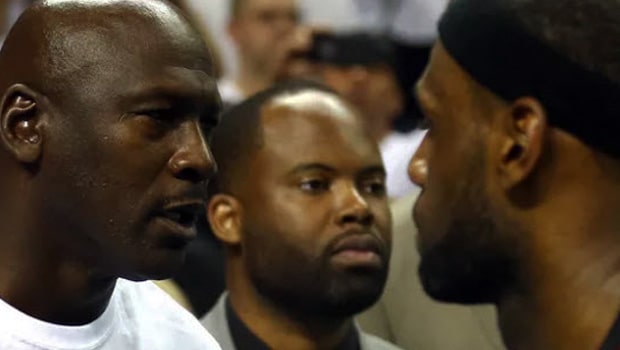 Has LeBron James closed the gap with Michael Jordan to be considered the GOAT (greatest of all-time)? Some NBA Hall of Famers shared their thoughts this year.
Four-time NBA champion Shaquille O'Neal averaged 23.7 points, 10.9 rebounds, 2.5 assists and 2.3 blocks in 34.7 minutes over 1,207 career games in 19 years with the Magic, Lakers, Heat, Suns, Cavaliers and Celtics. He played against MJ in the 1990s and against LeBron in the 2000s so he's qualified to give his take. Shaq appeared on the "Dan Patrick Show" and backed MJ:
"I think it just solidifies the argument about who's the best player ever. I think the fair thing to say is we should probably break it down by eras of who was the best player ever. But Michael Jordan by far, stuff that he's done, I don't see anybody being close to that. He's a 10; there's a lot of seven or eights out there, but not nines or 10s."
Stephon Marbury was interviewed by Brandon 'Scoop B' Robinson from Heavy.com in August and he explained why Michael Jordan is better than LeBron James.
"In the NBA, in America, you're already recognized by winning championships," Marbury told Robinson.
"So if you don't win championships you know, you're not regarded as the best ever but, LeBron is 3-6. How do you compare 3 with 6-0 with Michael Jordan? Where does that even make sense at? You can't talk about the game, you can't talk about how many L's you got in the Finals. And the numbers — you can't compare on this Earth with 6-0 and 3-something…there's no way in this world you can do it."
Marbury, a two-time NBA All Star, played in the league for 12 years, averaging 19.3 points, 7.6 assists and 3.0 rebounds in 37.7 minutes over 846 games with the Timberwolves, Nets, Suns, Knicks and Celtics. He appeared on the Scoop B Radio Podcast back in April and also weighed in on the subject:
"Jordan shouldn't even be ranked. It should be Kobe, then LeBron and then you can pick guys after that. There's just no comparison man. It's not the same. It's just different worlds. Different mentalities. I don't know why Jordan's name is mentioned in the same conversation sometimes. I'll clear that up real quick… there's really no need to talk about that," Marbury said.
"Jordan is not from Earth. LeBron's a great player. Don't get me wrong. A great, great player. Unbelievable. Amazing. But better than Michael Jordan? – it's not even the same. It's just different. In fact, it needs no explanation or explaining because we can't talk about Jordan's game. It's like we need to talk about what people are not," Marbury concluded.
Leave a comment