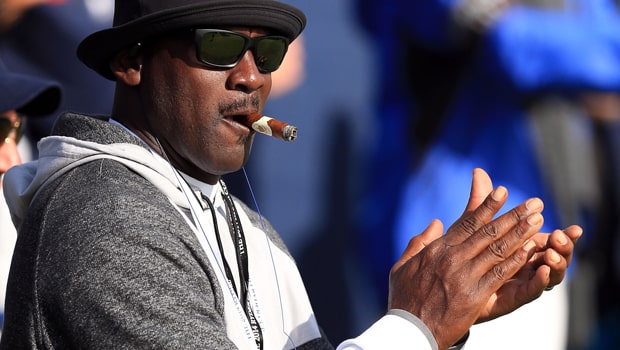 Michael Jordan has paid tribute to James Harden and Russell Westbrook for their recent accomplishments although he also playfully warned them that winning NBA titles is the way to greatness.
The Chicago Bulls icon won six NBA Championships during his stellar career and is still revered as perhaps the greatest exponent of the game.
Jordan is now the Charlotte Hornets owner and met with the media on Tuesday to discuss NBA All-Star 2019 this coming weekend.
Harden's streak of 30 straight 30-point games and Westbrook's 10 straight triple-doubles are both impressive and tough to accomplish, said Jordan, but not quite as tough as hoisting six NBA titles.
"Which is harder from the player's standpoint? Six championships by all means," Jordan told the press with a grin.
Harden extended his streak to 30 games, scoring 11 points in the final 100 seconds as his Houston Rockets defeated the Dallas Mavericks 120-104.
Westbrook, meanwhile, finished with 21 points, 14 rebounds and 11 assists to notch his 10th straight triple-double as the Oklahoma City Thunder bested the Portland Trail Blazers 120-111.
In doing so, he surpassed Wilt Chamberlain's benchmark for the most consecutive triple doubles in NBA history. Jordan says both men are doing positive things for the game.
"It shows progression in the league," Jordan said. "I am very proud of how both guys have done because they are making a mark for the league and I think it really helps grow the league."
Leave a comment