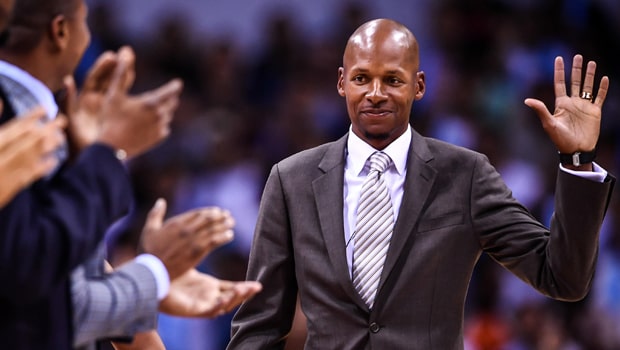 Ray Allen and Reggie Miller are two of the best shooters in NBA history. Whenever someone mentions the names Ray Allen and Reggie. Miller, scoring and outside shooting will instantly come to mind.
Ray Allen played 18 years in the NBA with the Bucks, SuperSonics, Celtics and Heat, averaging 18.9 points, 4.1 rebounds and 3.4 assists in 35.6 minutes over 1,300 games. Allen shot 45.2 percent from the field and 40.0 percent from 3-point range in his career. The legendary guard recently made a Facebook post going over what it was like to play against Reggie Miller:
"I absolutely hated guarding Reggie Miller. He was so good at moving without the ball and using his bigs (the Davis brothers) to set screens that it was impossible to stay with him. Even though I dreaded playing against him, I learned a lot from him. His example helped me shape who I was in the game. Shout out to my brother Reggie Miller for setting the bar for all of us shooters to follow in his footsteps and for being the competitor and warrior that he is. #pacers #bucks."
Reggie Miller was a legend in his own right and like Allen said, Miller's opponents dreaded playing against him and his example helped shape who many of the greatest shooters of all-time became, setting the bar for all of them and motivating them to follow in his footsteps as competitors and warriors. Like Allen, Reggie Miller played 18 years in the NBA. He averaged 18.2 points, 3.0 rebounds and 3.0 assists in 34.3 minutes over 1,389 games with the Pacers, shooting 47.1 percent from the field and 39.5 percent from beyond the arc in his career.
Miller responded to Ray Allen giving him credit for setting the bar high for shooters in the NBA by also citing another shooter, who, together with Allen, became great on their own.
"I may have set the bar high, but you leaped frog dat bar my friend… Loved our battles because they became a mirror of myself in how you and Rip Hamilton became so GREAT with moving without the ball, long nights for me. Thank you for always respecting the game and giving back…"
Leave a comment